Nankan river gets cleaned?
SUSTAINABLE DEVELOPMENT Vigorous post-disaster rehabilitation construction includes new eco-friendly embankments to improve flood control and save wildlife
When Chu Hsiao-hua (朱曉華) and her husband moved into a newly-completed high-rise building beside the Nankan river in Taoyuan County four years ago, they had never imagined that the tranquil river would be turned into a flood threat two years later.
"We were so frightened when we saw the river rising. It seemed that the water would flush into our community at any time," Chu recalled the scenario when Typhoon Nari hit northern Taiwan in September, 2001.
Chu, now the mother of a three-year-old child, often spends her leisure time with her family walking along the river's buffering zone, which has been turned into a green belt by environmentally-friendly flood-control engineering.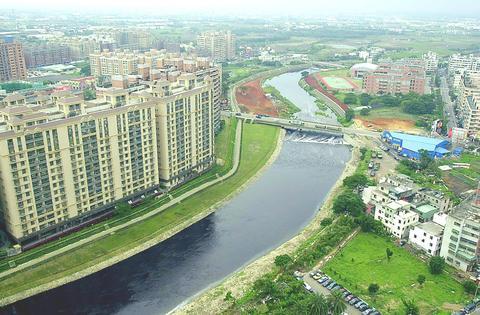 The Nankan river in Taoyuan County looks very different after recent clean-up work and embankment construction.
PHOTO: CHIANG YING-YING, TAIPEI TIMES
"I think living by the riverside is perfect, as long as the new embankments are able to resist floods," Chu said.
Chu actually has the government's guarantee. Kuo Ching-chiang (郭清江), Vice Chairman of the Cabinet's Public Construction Commission, said 23.5km of newly-completed embankments along the most important river in Taoyuan were constructed by adopting ecological engineering methods.
"Eco-engineering features ensuring flood control, obtaining building material from local sources and leaving water creatures' habitats intact," Kuo said.
When Nari struck northern Taiwan two years ago, flood-induced embankment failures along the 30km river destroyed bridges, disabled almost all drainage works, caused the loss of croplands and left a number of communities under water.
More than 1,000 families along the middle reaches of the river were affected by rising water. The ground floors of some buildings were flooded, which triggered a hurried evacuation. Residents reportedly did not even have time to deal with hundreds of cars that were trapped in the water. During Nari's onslaught, the number of disaster cases reported in Taoyuan County exceeded 1,100.
With a resolution to not only construct new embankments to improve flood control but also pull down illegal buildings constructed in the river's buffering zone, Taoyuan County Government later asked for NT$1.39 billion from the Cabinet.
On condition that the local authority avoid adopting conventional civil-engineering methods to build cement embankments, the commission eventually allocated NT$1.52 billion for proposed constructions.
"Bearing sustainable development in mind, it's time for us to abandon cement embankments. The eco-unfriendly and ugly design can not guarantee flood control and makes access to the water impossible," Kuo said.
One of the most challenging parts of the post-disaster rehabilitation construction is persuading dozens of residents to give up ownership of land situated in the river's buffering zones.
"Removing unnecessary constructions in the river to broaden the cross-section area of flow is the first step to prevent flooding," Kuo said.
In the last two years, 36.3ha of land was donated by residents, who helped save the government about NT$4.9 billion in compensation payouts. Meanwhile, the government claimed 3.85ha of its land in buffering zones which were illegally used by residents.
"It's a win-win strategy because the government successfully completed environmentally-friendly flood control embankments to ensure people's lives and properties were safe," Kuo said.
After completion of construction, an increase of about 15 percent in real-estate prices has been seen, Kuo said.
Walking along Nankan River last week, Kuo pointed out that new embankments are composed of cobbles, which were washed down the river in the past. Therefore the government did not have to spend money and time transferring building materials from somewhere else.
Cobbles are densely confined in gabions to form substantial units of amenity embankments. The porosity of these embankments makes it possible for frogs, field snails and other creatures to survive next to the river, Kuo said.
Part of the broadened river channel is now occupied by sand bars, where egrets and other kinds of birds hunt for food.
On a construction site where riverside planting is carried out, aged trees are carefully preserved and new seedlings of endemic plants only are planted. Kuo said avoiding planting alien species was just the first step.
"We hope to carry out eco-engineering construction more thoroughly in the future, as soon as comprehensive ecological surveys on all major rivers become available," Kuo said.
Before flowing into the Taiwan Strait, the Nankan river runs through four townships of Taoyuan county. Its drainage area is one of the main rice production regions in Taiwan. Similar to many others, it was a clean stream in the 1960s where residents went swimming and spent their leisure time. Since the 1970s, however, the river has been seriously polluted due to urban development and industrialization. Nowadays, the quality of the river water is classified as the second-worst in five levels.
According to the Environmental Protection Administration, domestic waste water is the leading cause of river pollution. The Ministry of the Interior has launched the construction last year of sewer systems in 20 of the river's drainage areas.
Kuo said industrial pollution was also a serious problem. More than 200 factories distributed in five industrial complexes in the county contribute to pollutants in the river. In addition, the long-term discharge of waste water from thousands of small-sized dyeing and finishing plants and foodstuff factories makes the river dark and stinky.
Worse, colorful waste water accompanied by white foam flowing into the river has become a common sight.
According to local authorities, 65,000 cubic meters of industrial waste water is discharged daily into the river -- an amount that accounts for 20 percent of the total flow.
"Until dishonest operators are made aware of the importance of ecological preservation and sustainable development, environmental inspections into the illegal discharge of waste water at local level will be continued and further strengthened," acting Environmental Protection Administrator Chang Juu-en (張祖恩) said.
Comments will be moderated. Keep comments relevant to the article. Remarks containing abusive and obscene language, personal attacks of any kind or promotion will be removed and the user banned. Final decision will be at the discretion of the Taipei Times.