`Legacy' on view for free tonight
CULTURE AND HISTORY Cloud Gate Dance Theater turns 30 today and to celebrate, its signature work will be on view at the National Chiang Kai-shek Cultural Center
As the Taipei City Government declared today "Could Gate Day" in honor of the 30 years of achievements of Cloud Gate Dance Theater, the prestigious dance troupe will be performing Legacy, its signature work created 25 years ago, at the National Theater this evening. \nAlthough tickets sold out several weeks ago, the revival of Legacy will be simultaneously broadcast on four large screens in the plaza of the National Chiang Kai-shek Cultural Center at 7:45pm. People who cannot appreciate the performance at the theater or the plaza will be able to watch it on Public Television at 10pm. \n"Legacy presents the perseverance of our ancestors, which led us to move forward unrelentingly," Cloud Gate founder and choreographer Lin Hwai-min (林懷民) said. \n"I believe that there was a kind of impetus in Taiwanese society that helped Cloud Gate to exist so that we could go on for 30 years," said Lin. "What Cloud Gate has done is exemplified by Legacy: to advance bravely and to hold on." \nFirst staged on Dec. 16, 1978, the day that the US broke off diplomatic relations with Taiwan in favor of Beijing, Legacy brought the house down in Chiayi with the epic dance piece portraying the saga of the pioneers of Taiwan who crossed the "Black Water," now known as the Taiwan Strait, to settle in Taiwan before the 10th century. \nTonight's performance is its 159th presentation and it will be performed by the dancers of three generations of Cloud Gate. The youngest dancer in the performance is 22 years old while the oldest is 40, Lin said. \nThe San Francisco Chronicle lauded Legacy as "a moving document" for those who have never been to Taiwan. \n"Legacy has been an icon of Taiwanese culture, many people have told me, Lin said. \nLin will lead a special activity dubbed a "Dance with 10,000 people" in the plaza of the CKS Cultural Center at 6:30pm before the performance, which will lead audiences to relax by dancing and through engaging in breathing exercises.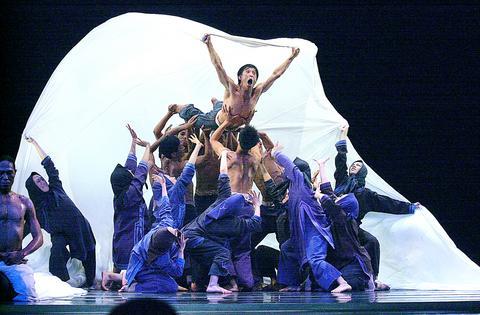 Cloud Gate Dance Theater performs ``Legacy.''
PHOTO: GEORGE TSORNG, TAIPEI TIMES
Comments will be moderated. Keep comments relevant to the article. Remarks containing abusive and obscene language, personal attacks of any kind or promotion will be removed and the user banned. Final decision will be at the discretion of the Taipei Times.