Taitung residents demand another referendum, on nuclear-waste issue
As the issue of a referendum on the future of the Fourth Nuclear Power Plant is heating up, residents from Taitung County, a potential site for the nation's first permanent repository for low-level radioactive waste, yesterday demanded a similar referendum on the waste issue. \nMore than 100 residents from Tawu Township (大武) yesterday attended a press conference at the Legislative Yuan, saying that more than 3,000 residents signed their names on a petition, which demands for a referendum on a nuclear-waste storage project in their hometown. \n"We local residents will be the most affected by the repository. The project should be decided by ourselves," said Li Chin-huei (李錦慧), a county councilman. \nLi said the repository should not be built unless the county council approves it or the result of a referendum is in favor of it. \nPetitions carried out by Tawu residents yesterday were supported by diverse social and political groups, including the Association for Promoting Public Voting on Nuke 4 (核四公投促進會), the Eastern Taiwan Society (東社) and DPP headquarters. \n"When we are talking about the future of the Fourth Nuclear Power Plant, we have to consider waste disposal problems as a whole," said DPP Legislator Eugene Jao (趙永清), who hosted the press conference. \nResidents of Kungliao Township, Taipei County, where the plant is located, said that it was unfair to have other nations decide the future of local people. \n"People living far away and using electric power conveniently will never realize our panic," said Wu Wen-tung (吳文通), spokesman for the Kungliao-based Yenliao Anti-Nuclear Self-Help Association. \nWu said a regional referendum on the future of the plant was acceptable. \nAnti-nuclear activists today will protest in front of the Office of the President to express their anger. \nIn April, President Chen Shui-bian (陳水扁) promised to come up with a solution to problems relating to the removal of an interim repository on Orchid Island. \nNearly 100,000 barrels of low-level radioactive waste from nuclear power plants, hospitals and research institutes are stored on the island. \nAt that time, Taitung County Magistrate Hsu Ching-yuan (徐慶元) said that the county would accept the waste as long as nuclear safety, sound compensation and an agreement from the area's residents could be ensured. \nHowever, the county council was against the idea. \nAnti-nuclear residents said they suspected that several groups could be profiting from supporting the project.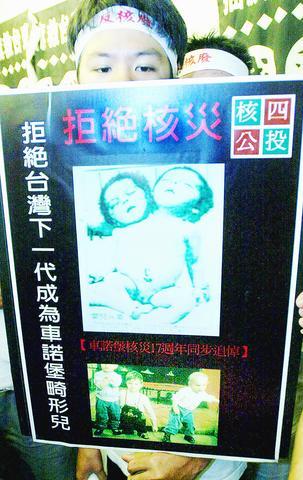 Taitung residents stage a demonstration in front of the Legislative Yuan to protest the government's plan to set up a permanent repository for low-level nuclear waste there. The placard features pictures of victims of the Chernobyl disaster.
PHOTO: SEAN CHAO, TAIPEI TIMES
Comments will be moderated. Keep comments relevant to the article. Remarks containing abusive and obscene language, personal attacks of any kind or promotion will be removed and the user banned. Final decision will be at the discretion of the Taipei Times.