SARS stresses health directors
EMOTIONAL INSTABILITY A survey found that the epidemic caused health bureau heads to suffer from the pressure, and some of them had to seek professional help
A survey conducted by the John Tung Foundation revealed yesterday that five out of the country's 25 counties and cities' health bureau directors suffered emotional instability during the SARS outbreak. \nHealth bureau directors from Tainan County, Taipei County, Lienchiang County, Taitung County and Penghu County experienced emotional instability because of excessive pressure caused by the SARS outbreak, the survey found. \nThe foundation carried out the survey between May 27 and June 20 by distributing questionnaires to the 25 bureau directors about their anti-SARS experiences and health conditions while fighting the epidemic. \nThree directors declined to answer the questionnaires. \nThe survey showed that 90 percent of the directors interviewed were "very satisfied" or "satisfied" with their performance in containing the killer virus. \nYeh Chin-chuan (葉金川), former director of the Taipei City Government's health bureau and the foundation's executive director, hosted a press conference to publish the results of the survey. \nYeh, who braved SARS, then a largely unknown disease, by entering Taipei Municipal Hoping Hospital to help control the outbreak there, said 15 health bureau directors had managed to keep their mood stable during the SARS battle. \n"But Shye Ren-shing (施仁興), director of Hualien County's health bureau, was so depressed that it was recommended he undergo professional counseling or get help from a medical institution," Yeh said. \nYeh said Shye's depression might have resulted from a sense of lack of direction. Hualien County Commissioner Chang Fu-hsing (張福興), who died on May 18, had been unable to direct the county's battle against SARS, Yeh said. \nFifteen of the respondents said the SARS crisis has delayed their agencies' timetables to achieve set goals and execute policies. \nDuring the outbreak, the central government drew up 14 measures for the 25 health bureaus to contain the disease. Twenty-two of the bureaus have fully implemented six out of the 14 measures, the survey showed. \nFactors leading to some health bureaus' failure to carry out the other eight measures included a shortage of resources and lack of knowledge to implement the measures. \nAfter the SARS crisis, 17 bureau directors reckoned their agencies' primary task now is to strengthen their capacity to prevent and control infectious diseases, the survey found. \n"Talking to family members or friends" and "reading" were the commonest ways in which the directors relieved the pressure during the outbreak, the survey showed. \nLin Sheue-rong (林雪蓉), director of Taoyuan County Government's health bureau, faced one more task than other bureau directors because the CKS International Airport is located in her county. \nTaiwan's first-generation SARS patients were all imported cases. Lin said she did not have much time to sleep or exercise and her work hours were very long during the outbreak. \n"But since the disease was there, it did not help to worry too much," Lin said, adding that she often ate her meals during meetings. \nMary Huang (黃美娜), director of Taichung County Government's health bureau, said 30 percent of her bureau's manpower was committed to recruiting hospital beds for SARS patients during the outbreak. \n"Hospitals had all kinds of excuses to reject SARS patients. One evening, our colleagues worked from 6pm to 10pm just to get a few beds for SARS patients," Huang said. \nWu Chia-hsuan (吳佳璇), a psychiatrist at National Taiwan University Hospital, said that cases of patients avoiding hospitals during the SARS outbreak happened repeatedly. \nAfter treating hospital staff who were mentally scarred by the outbreak, Wu said: "Now is just the start of people who were mentally damaged by SARS pouring in."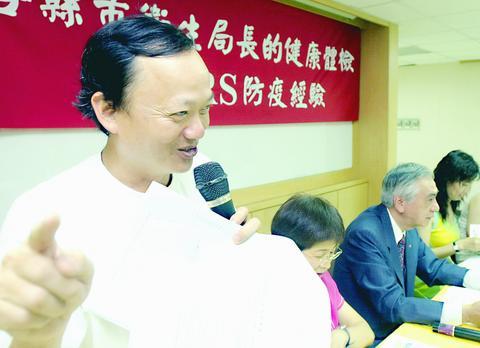 Yeh Chin-chuan, former director of Taipei's Bureau of Health, yesterday exchanges ideas with other health authorities during an anti-SARS conference. The event was hosted by the John Tung Foundation.
PHOTO: LO PEI-TE, TAIPEI TIMESN
Comments will be moderated. Keep comments relevant to the article. Remarks containing abusive and obscene language, personal attacks of any kind or promotion will be removed and the user banned. Final decision will be at the discretion of the Taipei Times.