Newsmakers: Finance minister steps into hot seat
RIGID Lin Chuan has a reputation for being outspoken and while many of his colleagues think he is perfect for the job, some critics think that he will accomplish little
Newly appointed Finance Minister Lin Chuan (林全), 51, is a reform-minded academic with a solid professional background who has quickly risen through the political ranks over the past seven years.
Before joining then Taipei mayor Chen Shui-bian's (陳水扁) administration in 1995, Lin was one of the most articulate, perspicacious and outspoken economists with expertise in public finance and taxation in National Chengchi University. He adheres to the principles of free market economics and advocates fiscal autonomy in local governments.
As a successful investor himself, Lin accumulated his personal wealth by making profitable stock investments while becoming popular as a private lecturer specializing in the analysis of the development of the local stock market.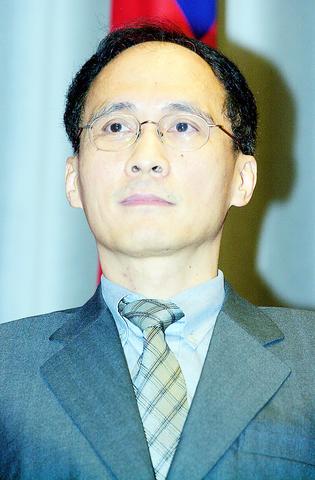 Lin Chuan, the newly appointed finance minister, is known for speaking his mind and not backing down when he believes in a policy. But after last week's Cabinet disaster, some wonder if the DPP leadership will back him up on further reforms.
PHOTO: CHIANG YING-YING, TAIPEI TIMES
Recommended by colleagues who were close to Chen, Lin began serving the nation's first DPP Taipei City mayor and built up mutual trust and close ties with him after serving as director of Taipei's Bureau of Finance. Never a supporter of the DPP, Lin told Chen that he had voted for New Party mayoral candidate Jaw Shau-kong (趙少康) during the 1994 Taipei mayoral elections when Chen asked him to head the bureau one year later.
Aiming to turn rigid economic theories into practical knowledge, Lin accepted Chen's offer and stepped out of the ivory tower. After that he managed the city's annual budget of some NT$180 billion and NT$3.6 trillion worth of assets for three years.
"As the city's treasurer, Lin's performance was highly regarded by Chen since he managed to pay the city's debts left over by Chen's predecessor," said DPP legislator Luo Wen-jia (羅文嘉), once a top aide to Chen.
Besides issuing bonds to raise funds, Lin blueprinted the city's first build-operate-transfer (BOT) project -- the yet to-be-completed 101-storey Taipei Financial Center -- after having generated over NT$20 billion from the bond issue, Luo said.
Lin's mainlander ethnic background and alienation from the opposition camp once stood out in Chen's administration, but later he mingled very well with other city officials, Luo said.
"He has set up his working style by formulating a system, following through with the rules and dismissing the opposition with reason and convincing numbers," Luo said.
Lin often sticks to his idealistic perspectives, speaking stubbornly and freely to politicians across all party lines during his entire political career.
Tseng Chu-wei (曾巨威), a professor of public finance in National Chengchi University and a good friend of Lin's said, "Professionalism is his shield to counter political pressure and his answer to critics."
His stubbornness, however, can sometimes get him into trouble. During Chen's presidential campaign in early 2000, Lin helped formulate and present the presidential white paper of finance policies, which included one controversial proposal of levying a securities income tax (證所稅). The proposal made news headlines the next day and upset so many stock investors that Chen had to publicly promise not to raise any taxes once elected as the president to ease voter panic.
Despite the controversy, Lin was appointed as head of the Director-General of Budget, Accounting and Statistics (DGBAS) after Chen won the presidential bid in 2000, managing central government's annual budgets.
As the nation's top statistician, Lin has successfully won legislative support and re-allocated the central government's Tax Redistribution Fund (統籌分配款) and subsidies for local governments to prevent pork-barrel politics.
"He was authorized to bring his fiscal expertise into full play without having to sacrifice professionalism or make political compromises in that [his former] position," Tseng said.
Equipped with solid professionalism in public finance, taxation and insights into the stock market, Lin, who has an economics Ph.D. from the University of Illinois, is widely believed to be qualified for the new job.
Tseng believes Lin will gradually realize his ideal of decentralizing power and budgets, in accordance with the spirit of autonomy in local government, after taking office tomorrow.
But Lin's lack of experience in the nation's banking sector has worried market watchers who would like to see him address the nation's No. 1 financial issue -- banking reform and the cleanup of non-performing loans, estimated at NT$1.43 trillion as of September.
"I doubt Lin will play a leading role in taking the initiative to carry out banking reform," said a Taipei-based multinational investment bank CEO, who requested anonymity.
But Tseng said money and banking are related to economics and Lin should soon be on the right track.
Actually, in June 1996, Lin successfully dealt with a bank run on the Sungshan Farmers' Association in Taipei. He demonstrated his ability to dismiss a small-scale crisis by disclosing the association's banking information to earn back depositors' confidence within two days.
Tseng, however, expressed concern whether Lin -- a "smart, yet stubborn" scholar -- will easily adapt himself to the new position, which requires highly polished political skills to handle pressure from various interest groups.
"He is sure to face a fickle policy-making environment, where he may have to make compromises or trigger conflicts while trying to emphasize professionalism," Tseng said in the hopes that the president -- the real policy-maker behind the scene -- will fully support and allow him to make breakthroughs.
Keeping his private life very low profile, Lin's second marriage with his secretary in September, came as a big surprise even to many of his colleagues, who said that Lin leads a very simple, and sometimes boring life. His two biggest dreams in life, however, are to help realize a true municipalism and found a liberal arts college in Taiwan.
Comments will be moderated. Keep comments relevant to the article. Remarks containing abusive and obscene language, personal attacks of any kind or promotion will be removed and the user banned. Final decision will be at the discretion of the Taipei Times.