Shihlin vendors smell something fishy
Retailers say organized crime is dictating decisions as the Shihlin night market prepares to build a new home. Stories of intimidation and questionable contract procurement have left some vendors wondering where to turn
It was a sunny afternoon, three days before the Shihlin night market was scheduled to move to a new temporary indoor facility and reopen today for business. \nHeh Yen-kuei (賀延貴), executive manager of the market's self-governance association, was unhappy. In addition to the millions of things he had to do, Heh had to deal with the police officer who was at his newly renovated office questioning him about allegations of gangsters' involvement in the market's relocation project. \nAlthough Heh told police that he knew nothing about the allegations, he did reveal to the Taipei Times after the officer's departure that he suspects gangsters may be involved. \nAt issue is the contract to make new signs for the market's 160 food stalls. \nAccording to Heh, there were originally three bidders, offering NT$5,700, NT$6,200 and NT$9,000 per set of signs respectively. \nNaturally, the one offering the lowest price would usually win the contract. But that was not the case here. \nThe contractor offering the lowest bid bailed out, claiming it wouldn't be able to make a profit with the NT$5,700 price. \nThat made the contractor offering NT$6,200 the next choice, however it was nowhere to be found after being awarded the project. \nThe association said it had no choice but to award the contract to the contractor offering the highest price of NT$9,000. \nHeh said that he did not rule out the possibility that the three companies might have been connected in some way and may ultimately report to the same people. \nA few days ago, someone who Heh said he suspected was a gangster approached him and told him that he would be glad to help Heh "take care of those market vendors who are not docile." \nAnother person has expressed an interest in leasing a large section of the new market and then subletting it to others interested in erecting billboards or holding events there. \n"After discussing the matter with Taipei City Council Speaker Wu Pi-chu (吳碧珠), we thought it would be a good idea to sign a contract with the interested party so if any problems occur in the future, we'll be in a favorable situation" he said. \nThe leasing idea smells fishy to one market vendor, who asked to be identified as Ms. Hope. \nAccording to Hope, the interested individual comes from a respected family in the community and was introduced to Heh by a senior gangster. \nGetting ready for the evening crowd at her fruit stand that Hope runs with her father-in-law, the 42-year-old widow said that the relocation of the market is full of rotten politics. \nQuestionable motives \n"Wu is the person manipulating the whole thing from behind the scenes," she said. \nAccording to Hope, one of Wu's uncles has been the chairman of the night market's self-governance association for more than three decades. \n"Look at the new facility we're about to move in to. Do you think it is worth NT$138 million?" she said. "I have no idea where all the money went. As you can see, the roof has a leakage problem and the lighting is insufficient." \nIn an effort to convert the 80-year-old traditional market into a safe and more comfortable environment, the Taipei City Government set up a five-year plan earlier this year to overhaul the site. \nThe first floor of the two-floor temporary market will hold 539 booths -- including food stalls and retailers selling souvenirs, night market knickknacks and clothes. \nThe second floor will serve as a parking lot for about 400 cars. \nA six-story complex, estimated to cost NT$600 million, will replace the patchwork of lanes and alleys that form the current night market in three years time. \nAccording to Hope, every area of the facility has the potential for absurdity. \nTaking the parking lot as an example, the city plans to charge NT$100 per car, Hope said. \n"I don't think it makes sense, particularly for those who need to park for a short period of time," she said, adding that vendors like her often need to access the market's parking lot on a daily basis. \n"It will still cost me a fortune even if it takes me only five minutes to unload my stuff," she said. "And what if I need to do that five times a day?" \nIn addition to the parking fee, Hope said that the expenses at the new facility are more than what they are now. \n"Take the cleaning fee, for example. It'll double from NT$600 to NT$1,200 a month, not to mention the electricity fee, which will cost NT$2 more per unit than for regular stores," she said. "In addition, while it costs NT$2,000 to rent a booth at the old place, the new booth will cost NT$1,000 more." \nHope said that she is particularly worried about the future of another parking lot at the ground level of the complex. \n"I've learned that the city plans to lease the area to gangsters so they can profit from leasing the location to interested people for other purposes," she said. \nLeasing plan \nIn addition, Hope said that Wu has been trying to turn Tatung and Tanan roads near her family house into a pedestrian area which Hope said Wu can lease to vendors. \n"I know I'm putting my life in danger by making such allegations. My father-in-law also told me to stay out of trouble," she said. "But all I've ever wanted is to keep this place free from gangsters' manipulation and blood suckers." \nAfter digging up all the dirt from various sources over the past month, Hope said that she has lost 3kg. \n"Someone has even warned me to shut up or else I'll get myself killed," she said. \nBut Hope said she is not afraid. \n"If I don't stand up for myself, nobody will," she said. \nHowever, to protect her safety, Hope said that she has requested a restraining order for the man who intimidated her. \n"But I don't think it's going to do me any good, because the people at the police precinct are familiar with the guy who intimated me," she said. "I think I'll just have to be careful on my way home after getting off work." \nReservations \nOther vendors expressed hesitation about the relocation. \nSixty-year-old Lin Feng-chin (林鳳金), who has been selling pancakes at the market for more than 40 years, said that she did not want to move to the new facility. \n"I'm afraid that everything will be entirely different when we come back years later," she said. \nLin said that she has seen things at the market change over the years. \n"When I first started, this place was kind of spooky because I was the only vendor here while the rest were gathering around a temple nearby," she said. \nAt her stand's peak, Lin said that she sold 460 pancakes a day at a price of NT$2 each. Now she sells 40 to 60 at a price of NT$35 each. \nCheng Lung-fu (鄭隆富), a 66-year-old butcher, expressed similar concerns. \n"I doubt people would want to shop at the new place when it's more convenient for them to shop at illegal street vendors gathering around the market and vying with us for business," he said. "If I could, I'd want to be an illegal vendor because I don't need to pay NT$5,000 every month in various taxes and expenses."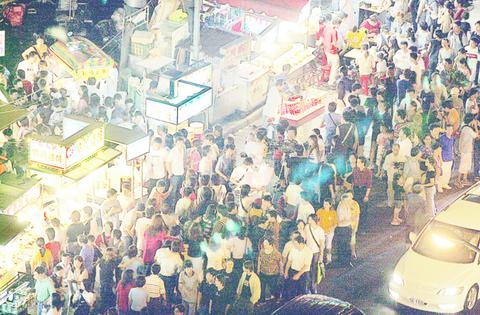 Visitors swarm into the Shihlin night market last night. The traditional market will soon be torn down to make way for a more modern facility. The stalls will be relocated to a temporary market nearby.
PHOTO: GEORGE TSORNG, TAIPEI TIMES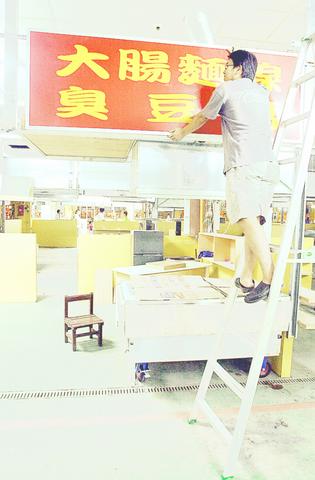 A vendor installs a sign over his booth at the temporary facility where the Shihlin night market's stalls will be relocated.
PHOTO: GEORGE TSORNG, TAIPEI TIMES
Comments will be moderated. Keep comments relevant to the article. Remarks containing abusive and obscene language, personal attacks of any kind or promotion will be removed and the user banned. Final decision will be at the discretion of the Taipei Times.