Justin Lin's wife pays her respects
In order to escape the glare of the media, Justin Lin's (林毅夫) wife Chen Yun-ing (陳雲英) yesterday burned incense and paid her respects to her deceased father-in-law yesterday at about 5am, according to Chinese-language media reports.
Chen was reported to be accompanied by Lin's older brother, Lin Wan-sung (林旺松), to worship her father-in-law who died early this month.
Chen arrived in Taiwan on Sunday night to attend her father-in-law's funeral today on behalf of her husband.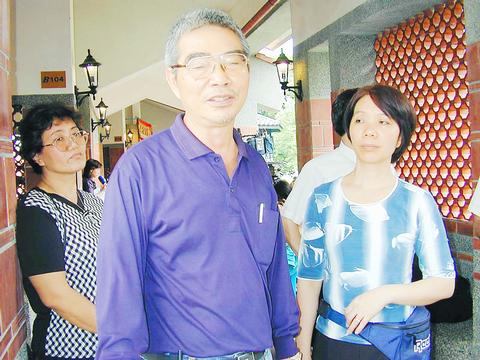 Lin Wang-sung, Justin Lin's older brother, speaks to reporters yesterday.
PHOTO: LI KUI-CHUNG, TAIPEI TIMES
Chen apparently evaded reporters waiting outside Lin's family home in Ilan County as she left to pay her respects early in the morning.
Chen, who, like her husband, is a famous scholar in China, is currently the director of a special education research center under China's Ministry of Education.
When Justin Lin defected to China in 1979, Chen was pregnant with their daughter and their son was three years old.
A woman with a strong will, she refused to believe that her husband was dead without seeing his body.
Years later, she learned form one of Lin's friends that her husband was still alive and was studying in the US.
She went to America to meet Lin and obtained her own doctoral degree there. Their two children were later taken to the US to join them.
The family eventually went to China.
Chen is expected to return to China after attending the funeral service slated for today.
Lin Wang-sung, the oldest of Justin Lin's brothers, said it was unfair to brand his younger brother a traitor.
"I don't understand why people regard him as a villain," he said. "My brother just wanted to pursue his ambitions."
Lin Wan-sung said he felt hurt and sad.
Another older brother, Lin Tzu-lang (林次郎), said that Justin Lin was particularly sad not only because he would miss his father's funeral but also because he had not been able to attend his mother's funeral several years ago.
"Please don't attack my little brother any more," he said.
During an interview with CNA in Beijing, Justin Lin said yesterday that he regretted that he could not attend his father's funeral today. But, "I will set up an altar in my office in Beijing to show my respect," he said.
Comments will be moderated. Keep comments relevant to the article. Remarks containing abusive and obscene language, personal attacks of any kind or promotion will be removed and the user banned. Final decision will be at the discretion of the Taipei Times.