Family members mourn for loved ones
SAYING GOODBYE The grief-stricken relatives of those who died aboard flight CI611 gathered in Penghu yesterday to remember the loved ones that they lost. Earlier, they vented their anger and frustration to the premier
Facing the endless sea at Chihkan Pier in Penghu, hundreds of relatives of passengers on board a China Airlines flight that plunged into the sea gathered yesterday afternoon, calling home the souls of the dead.
"Hsia-tin, come back. Let mom take a last glance at you. Your mom, your sisters, as well as those who love you are here waiting for you," shouted a middle-aged woman, crying.
"I wish we could resume our ties as a family in our next life," the woman said, waving her child's clothes in the air.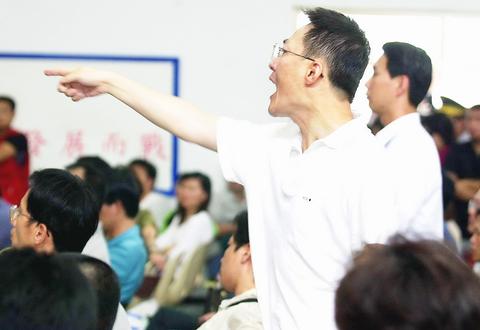 Relatives of the crash victims vent their anger during a meeting with Premier Yu Shyi-kun and transportation minister Lin Ling-san in Penghu yesterday.
PHOTO: CHANG CHIA-MING, TAIPEI TIMES
Hundreds of relatives yesterday shared her grief and despair as they shouted the names of their love ones who were on board the plane that crashed into the sea on Saturday afternoon after taking off from Taipei en route to Hong Kong.
"A-ching! Mom is still looking for you, but to no avail," shouted another middle-aged woman in despair, placing a bunch of chrysanthemums in front of her.
Some also knelt down, holding the photos of their loved ones or placing their offerings in front of them.
"Dad, it's me, Jia-rung. I am here looking for you. Come back soon," shouted a young man, holding the photo of his father.
With the sounds of trumpet-like wind instruments and bells in the background, three Taoist priests in traditional gowns held a formal ceremony by the seashore, placing rice wine and fresh flowers on a table as offerings to the victims of the tragedy.
Each of the relatives also held incense, bowing to the sea, while others burned paper money for the victims.
At the site of the North Sea Tourist Information Center at the pier, a hot spot for tourists in summer season, the grief of the relatives spilled over, causing some reporters -- men and women alike -- to weep while covering the ceremony.
A young woman, whose husband was on board, leaving her and two young children behind, said she was envious of those families who were together on board the plane.
"How will I and my two fatherless children be able to bear the pain all alone?" she said.
Earlier in the day, frustrated and distressed relatives -- who had come to identify the bodies in Penghu -- vented their anger at a meeting with Premier Yu Shyi-kun and several Cabinet members at a local air force base.
They complained about the lack of regular briefings at the site by high-ranking government officials as well as China Airlines staff.
A young woman, while talking on a mobile phone, voiced her complaints about the high-ranking officials' whirlwind visit. "Now we just got a bunch of government officials taking nonsense."
Despite continuous grumbles from the floor, Yu offered his condolences to relatives of victims during the meeting and vowed to continue the search.
Minister of National Defense Tang Yao-ming (湯曜明) also promised relatives of victims that the government would arrange for them to board search vessels and helicopters to see the search efforts at the "proper" time.
Tang said that the first 72 hours after a plane crash were critical to research and rescue efforts, although no additional bodies were found yesterday.
Prior to his meeting with the relatives yesterday, Yu and his Cabinet members also briefly paid their respect to victims of the plane crash by visiting the small sports stadium at a local air force base where those bodies that have been recovered have been placed.
Comments will be moderated. Keep comments relevant to the article. Remarks containing abusive and obscene language, personal attacks of any kind or promotion will be removed and the user banned. Final decision will be at the discretion of the Taipei Times.