LeBron wins on return to Cleveland
STANDING OVATION: Oklahoma City handed Golden State their fourth straight loss for the first time in 450 games, but lost two guards to injuries in the process
LeBron James on Wednesday made a triumphant return to Cleveland and received a standing ovation from fans before leading the Los Angeles Lakers over the Cavaliers 109-105.
James scored 32 points, grabbed 14 rebounds and made seven assists to spark the Lakers, who closed the contest with an 18-6 run to win for the sixth time in seven games.
"We cranked up our defense in the fourth quarter," James said. "They played a heck of a game, but we kept our composure. We're a young crew. We keep getting better."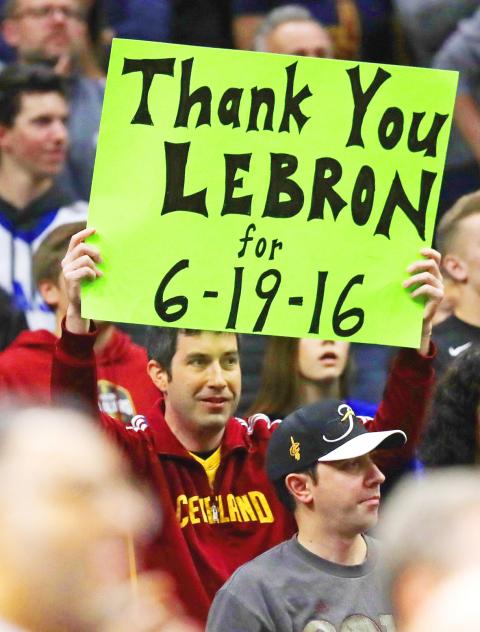 A Cleveland Cavaliers fan holds up a poster thanking LeBron James for Cleveland's championship win before they played the Los Angeles Lakers on Wednesday in Cleveland, Ohio.
Photo: AP
It was an emotional night for James in his first game back after leaving the Cavaliers in July, but nothing like his 2010 return after departing Cleveland for Miami when fans booed him.
There were cheers when James trotted onto the court for pre-game warm-ups, a huge standing ovation when he was introduced and, after James scored on the Lakers' first possession, a video highlight tribute to huge applause.
"To come back and get the reception I got, it means a lot not only to myself, but my family," James said. "My 11 years I played for this franchise I tried to give everything I could on and off the court."
The Lakers improved to 10-7, their best since April 2013, while the Cavs fell to an NBA-worst 2-14.
Also on Wednesday, Reigning NBA champions Golden State suffered a fourth consecutive loss for the first time since 2013 — 450 games ago — as the Warriors fell at home to Oklahoma City 123-95.
Thunder guard Russell Westbrook had 11 points, 11 rebounds and 13 assists for his 105th career triple-double.
German reserve Dennis Schroder scored a game-high 32 points, with Durant and Klay Thompson each hitting 27 for the Warriors, who lacked injured Stephen Curry.
"I think we can be really great," Schroder said. "Defensively, we give people problems. We just need to keep working and getting better."
Oklahoma City won for the 11th time in 13 games, a 25-4 Thunder run in the fourth quarter breaking open a tight game.
Two 20-year-old Thunder guards left with injuries: Terrance Ferguson in the first quarter with a left-ankle sprain and Hamidou Diallo carried off on a stretcher with a severe leg injury in the fourth.
In a close contest, Cameroonian center Joel Embiid outshined New Orleans big man Anthony Davis to power the Philadelphia 76ers over the Pelicans 121-120.
Embiid fouled Davis on a three-point shot with two seconds remaining. Davis hit two free throws, but missed the third and Embiid batted away the rebound to keep the Sixers unbeaten at home (10-0) with a fourth consecutive win.
Embiid finished with game highs of 31 points and 19 rebounds, while Davis had 12 points, 16 rebounds, five steals and five blocked shots.
Jonas Valanciunas scored 24 points and Kyle Lowry had 21 points, 17 assists and 12 rebounds to spark the NBA-best Toronto Raptors over hosts Atlanta 124-108.
James Harden scored 43 points and Clint Capela added 27 points and 15 rebounds to power the Houston Rockets over visiting Detroit 126-124.
Greek star Giannis Antetokounmpo had 33 points, 16 rebounds and nine assists to power Milwaukee over Portland 143-100, improving the Bucks to an NBA second-best 13-4 and dropping the Trail Blazers from the Western Conference lead.
Memphis edged San Antonio 104-103 on two Marc Gasol free-throws with 0.7 seconds remaining to seize the West lead.
Comments will be moderated. Keep comments relevant to the article. Remarks containing abusive and obscene language, personal attacks of any kind or promotion will be removed and the user banned. Final decision will be at the discretion of the Taipei Times.