Broncos fans enjoy rout of Cardinals
There were a lot of orange-clad Denver fans in the stands in Arizona on Thursday and they must have loved watching the Broncos beat hosts the Cardinals 45-10.
"That was unbelievable," Denver quarterback Case Keenum said. "It felt like a home game there for a lot of it. That was impressive. That was really cool."
After four straight losses, the Broncos (3-4) took control early, returning two interceptions off Josh Rosen passes for first-quarter touchdowns.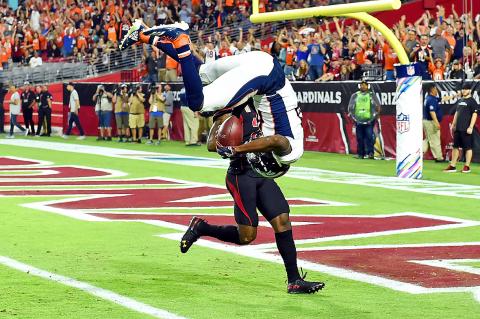 Emmanuel Sanders of the Denver Broncos flips into the end zone after catching a pass against the Arizona Cardinals in their NFL game in Glendale, Arizona, on Thursday.
Photo: AFP
Denver led 21-3 after one quarter and 35-3 at the half, giving a rare breather of a win to embattled coach Vance Joseph.
"That's more about our football team. I'm not concerned about me," Joseph said. "It's a good win for our football team. It has been a tough, tough two weeks. We had a tough loss on Sunday. We had a short week, so it's really good for our team to win a game."
The Cardinals (1-6) have lost their first four home games for the first time since 1979, nearly a decade before the franchise moved from St Louis to the desert.
"Definitely an embarrassing effort tonight," first-year coach Steve Wilks said. "Our fans deserve more than that. We have to perform better than that. Six sacks, three interceptions. It can go on and on. Unacceptable."
Arizona offensive coordinator Mike McCoy had been considered on shaky ground, but there is no indication that any move is imminent.
"You guys are going to ask me about changes," Wilks said. "That's premature to talk about any changes right now. Everyone is going to be evaluated across the board."
Von Miller had promised the Broncos would kick the Cardinals' backside and they certainly did.
Miller said he did it to boost the confidence of his teammates.
"And it worked," he said.
Defensive end Zach Kerr agreed.
"It puts an extra fire in us," he said. "You can feel it all week during the preparation. Everyone was zoned in, locked in. It's a short week, but nobody complained. Nobody said anything, but we just went out there and worked."
Emmanuel Sanders had a big night, throwing a 28-yard touchdown pass and catching a 64-yarder for a score.
On the touchdown catch, he did a front flip over the goal-line. He had said he was going to quit with the flips, but could not resist.
"That's what it's about, man, having fun and playing football," Sanders said. "That's how you win games. To catch that pass, I didn't have to do anything but run straight. It was probably one of the easiest touchdown passes I've caught in terms of a deep ball."
Comments will be moderated. Keep comments relevant to the article. Remarks containing abusive and obscene language, personal attacks of any kind or promotion will be removed and the user banned. Final decision will be at the discretion of the Taipei Times.