Asian Games: Superfan still drumming after 15 years
Thai superfan Parinya Weerawong has been cheering at international sports events for 15 years, but his enthusiasm was undiminished at the Asian Games, as he jammed flags into his hat and beat drums hanging from his waist.
The 60-year-old petrochemical company employee sported a traditional Thai scarlet outfit in Jakarta, where he devoted most of his boundless energy to weightlifting and boxing.
"I came to cheer for many sports that I could get the tickets to get into. If some sports play at the same time, I couldn't cheer for them, so I send my regards," Weerawong said, showing off his flag-painted cheeks.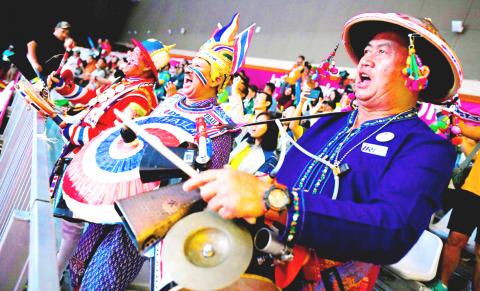 Thai supporter Parinya Weerawong, right, on Wednesday attends an Asian Games boxing event in Jakarta.
Photo: AFP
Weerawong, who has been to 10 Southeast Asian Games, six Asian Games and three Olympics, has spent nearly US$100,000 touring the world.
Thai sports authorities now pay for his accommodation, saying it helps the nation's athletes, and he gets help from his company for travel costs.
"After they saw the significance of what we do, they helped out, because it's difficult for transportation, accommodation and budget," said Weerawong, who designs his costumes to resemble traditional attire from northeast Thailand.
Weerawong said his passion for sport was sparked as a young man when he was a keen runner, although these days he prefers bowling.
"I loved sports since I was young. I was an athlete, a runner, but I was not that good," he said.
Comments will be moderated. Keep comments relevant to the article. Remarks containing abusive and obscene language, personal attacks of any kind or promotion will be removed and the user banned. Final decision will be at the discretion of the Taipei Times.