Asian Games: Bronzes, soft tennis gold for Taiwan
SEMI-FINAL WOES: Neither of the basketball finals, nor the men's volleyball finals are to include Taiwan, after they were thrashed by Korean and Chinese teams
Taiwan yesterday won a gold medal in the soft tennis mixed doubles and three bronze medals in cycling, judo and kurash, but faltered in the basketball and volleyball semi-finals at the Asian Games in Indonesia.
In a marathon match, Taiwanese duo Yu Kai-wen and Cheng Chu-ling finally prevailed 5-3 over South Korea's Kim Ki-sung and Mun Hye-gyoeng in the mixed doubles.
It has been a fantastic Games for Cheng, who on Wednesday won the silver medal in the soft tennis women's singles.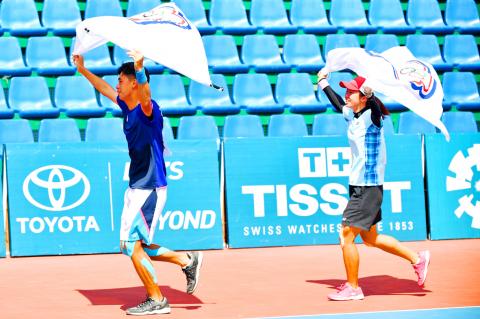 Taiwan's Yu Kai-wen, left, and Cheng Chu-ling celebrate after winning the Asian Games mixed doubles soft tennis final against South Korea's Kim Ki-sung and Mun Hye-gyeong yesterday in Palembang, Indonesia.
Photo: AFP
Cheng had tears in her eyes at the end of yesterday's match, as she had vowed to come home from the Games with a gold medal.
Yu and Cheng took the opener, but dropped two sets before rallying to take another two. They eventually overcame the tenacious South Korean duo 4-1, 1-4, 2-4, 4-0, 4-3, 2-4, 4-2, 4-0.
"It was really tough, because my legs started to cramp up early in the match, but I had to endure it and adjust," Yu told reporters in a post-game interview.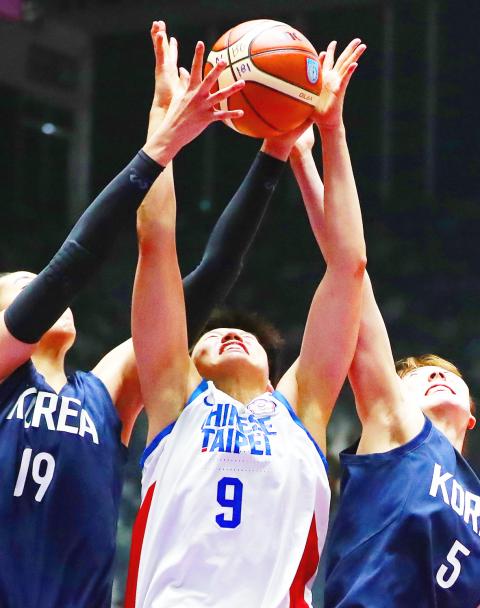 Taiwan's Huang Ping-jen, center, battles for the ball against Park Ji-su, left, and Park Hye-jin of Unified Korea during their Asian Games semi-final yesterday in Jakarta.
Photo: AP
"The key to winning the gold was making adjustments early to avoid Yu's cramps, as well as changing tactics and altering positioning," team coach Yeh Yu-ming said. "Their performance was perfect today."
"The switch in position turned out to be in our favor," he said, referring to the duo's offensive position at the net instead of at the baseline.
In the cycling 3,000m women's individual pursuit, Huang Ting-ying clocked a time of 3 minutes, 45.449 seconds, 4.511 seconds ahead of Indonesian Ayustina Priatna, to win the bronze medal.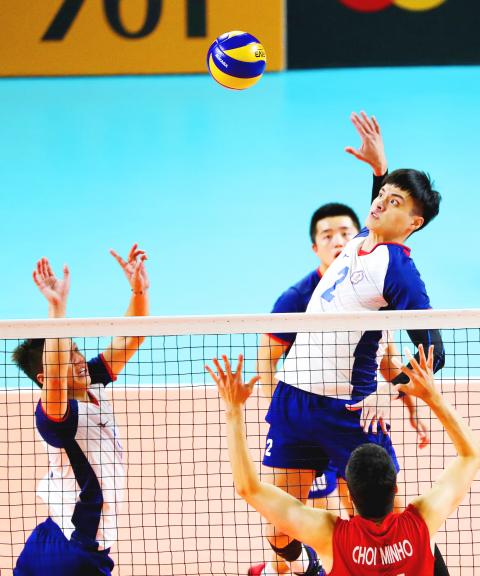 Taiwan's Liu Hong-jie, right, returns to South Korea during their Asian Games semi-final yesterday in Jakarta.
Photo: AP
The title for the event went to Lee Ju-mi of South Korea, who defeated China's Wang Hong in the final.
Huang, a veteran cyclist, won golds in the 3,000m individual pursuit and the points race at the 2016 Asian Track Cycling Championships in Japan.
Taiwan took another bronze in judo, after Lien Chen-ling defeated Sevara Nishanbayeva of Kazakhstan 10-0 in the women's 57kg category.
"I felt bad after losing the in the quarter-finals, but my coach told me I can still advance through the repechage round, so I focused more and won two bouts in a row to take the bronze," Lien said.
It was Taiwan's second bronze in judo, after Yang Yung-wei triumphed over An Jae-yong of North Korea in extra time on Wednesday.
In kurash, Yang Hsien-tzu took the bronze in the women's under-78kg division, after losing to Kumush Yuldashova of Uzbekistan 0-10 in the semi-finals.
Yang Hsien-tzu first attracted attention after winning gold in the division at last year's Asian Indoor and Martial Arts Games in Turkmenistan.
In the women's basketball semi-finals, Taiwan fell behind Unified Korea 35-50 at halftime and ended up losing 66-89.
Ro Suk-yong from North Korea netted 17 points, as did her South Korean teammates Lim Yung-hui and Park Hye-jin.
Taiwan is to face Japan for the bronze medal tomorrow, while United Korea are to take on China for the gold.
Ro said that she struggled at times while defending due to her relatively small stature, but was backed up by 1.96m-tall US-based teammate Park Ji-su.
"It was difficult when I was trying to defend, because I am very short, so when I cannot defend, Park Ji-su did it," said Ro, who is one of three North Korean players on the team. "Although I am feeling a bit tired, I think what's important is we will be playing together in the final. We'll do our best."
On the men's side, Taiwan was thrashed by China 86-63 and is to face South Korea for the bronze tomorrow.
In the men's volleyball semi-finals, Taiwan lost to South Korea 2-3.
Additional reporting by Reuters and CNA
Comments will be moderated. Keep comments relevant to the article. Remarks containing abusive and obscene language, personal attacks of any kind or promotion will be removed and the user banned. Final decision will be at the discretion of the Taipei Times.