Anderson ousts Isner in 'endless' contest to final
ENDURANCE: Keven Anderson and John Isner battled out a semi-final that featured 102 thunderbolt aces, 264 unreturned serves and 247 bone-rattling winners
When Kevin Anderson on Friday lost his footing and fell on his backside while hitting a backhand in the men's semi-final at Wimbledon, nobody would have blamed him if he did not bother getting up again.
After all, this was at 24-all in the fifth set of a semi-final against John Isner that had been going on for what seemed like forever, but was in fact well past the 6-1/2 hour mark.
However, not only did Anderson jump back to his feet, the South African astonishingly switched his racket into his left hand and, gripping it halfway up the handle, hit a forehand to get the ball back and take the point before he broke and then went on to win the match.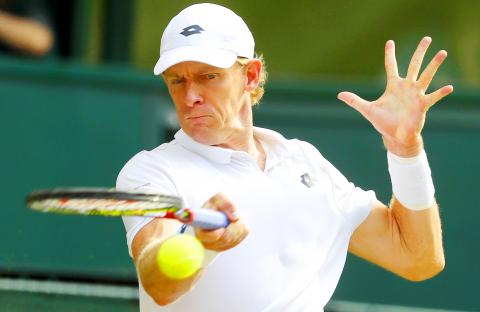 South Africa's Kevin Anderson returns to John Isner of the United States during their Wimbledon men's singles semi-final in London on Friday.
Photo: AP
It was that kind of a bonkers contest — and exactly the kind of ingeniousness that was needed to break the serve-hold-serve-hold deadlock that went on for almost three hours in the deciding set alone, as Anderson became the first South African man in 97 years to reach the Wimbledon final.
History books will show that Anderson came out on top in a 7-6(6), 6-7(5), 6-7(9), 6-4 26-24 epic that lasted six hours, 36 minutes — the longest ever semi-final at Wimbledon — but those numbers fail to illustrate the astonishing feats of endurance shown by the two gladiators on the most famous stage in tennis.
It is a match that featured 102 thunderbolt aces, 264 unreturned serves and 247 bone-rattling winners, but none of those will stand out as much as the heart and desire of the two combatants as both tried to reach their first Wimbledon final.
A contest that started at 1:10pm saw Isner broken for the first time in this year's championships at 3:38pm, ending a run of 110 straight holds that made him the first man to reach the semis without dropping serve since records began in 1992.
However, that break in the eighth game of the third set did not hurt anything like the moment when he finally slapped a weary forehand wide at 7:46pm to surrender his title hopes.
Showing what a class act Anderson is, there were no wild roars, no fist pumping and no raised arms in celebration from the eighth seed.
All the 32-year-old had left in him was to give Isner a sympathetic hug after he came out on top in the second-longest match ever contested at the All England Club.
"You're really in a war of attrition out there. It's way beyond a normal tennis match or tactics. Just playing like that in those conditions was really tough on both of us. At the end you feel like it's a draw, but someone has to win," said an exhausted Anderson, who had sensationally beaten defending champion Roger Federer in another nail-biting five-setter two days ago.
"Fortunately, I was able to find a way over the finish line," he said. "John is a great guy and I really feel for him. If I was on the opposite side, I don't know how you can take that playing for so long and coming out short ... getting through something like that is quite different."
"I have to recover as much as I can for the final now," Anderson added. "I'm in the final of Wimbledon and that's half of a dream come true."
Playing Isner who is enshrined in Wimbledon folklore for winning the "endless match" — an 11 hour, five minute humdinger against Frenchman Nicolas Mahut in 2010 — was never going to be easy for Anderson.
He had beaten the American only three times in 11 meetings and lost five straight matches against him dating back to 2012.
A showdown between two tennis skyscrapers — with Isner topping the 203cm Anderson by more than 5cm — predictably featured three tiebreaks.
With Anderson serving second in the final set and having to hold 20 times to stay alive, Rafael Nadal and Novak Djokovic were left wondering if they would ever get on court for their semi-final.
However, soon after Djokovic had gone on social media to show that he had been reduced to playing a game of marbles on the locker room floor — a message punctuated with three laughing emojis — Anderson delivered the knockout blow to reach the Wimbledon final at the 10th time of asking.
"Right now I feel terrible. My left heel is killing me," Isner said. "It stinks to lose, but I gave it everything I had out there. I was pretty close to making a Grand Slam final, but it didn't happen, so... That's that."
Comments will be moderated. Keep comments relevant to the article. Remarks containing abusive and obscene language, personal attacks of any kind or promotion will be removed and the user banned. Final decision will be at the discretion of the Taipei Times.