Red Sox edge Orioles 2-0 in 12 innings
OUTSTANDING PITCHING: Red Sox pitcher Steven Wright and five relievers combined for Boston's fifth shutout of the year. It was the fifth straight loss for the Baltimore Orioles
Seems the best-hitting team in the big leagues can win with pitching and defense, too.
Brock Holt and Jackie Bradley Jr each delivered a sacrifice fly in the 12th inning, and the Boston Red Sox limited the Baltimore Orioles to five hits in a 2-0 victory on Monday night.
Although the Red Sox lead the majors in runs and batting average, they managed only four hits through 11 scoreless innings in this one.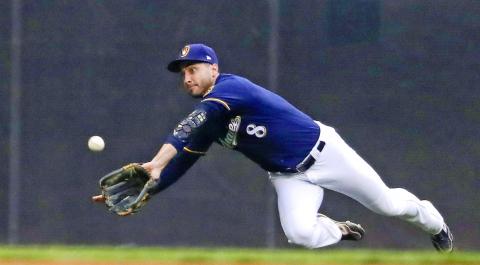 The Milwaukee Brewers' Ryan Braun makes a diving catch on a ball hit by the Chicago Cubs' Anthony Rizzo during the fourth inning of their game in Milwaukee, Wisconsin, on Monday.
Photo: AP
"Sometimes we're going to go through stuff like this, throughout the season," manager Alex Cora said. "But the pitching did outstanding, we played great defense and we ended up winning."
Steven Wright and five relievers combined for Boston's fifth shutout of the year.
The Red Sox have scored only 10 runs in their last five games, but perceive that to be nothing more than a mini-slump.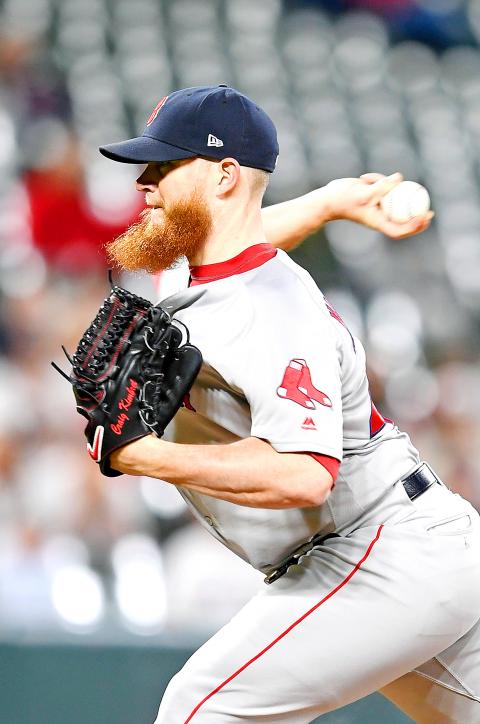 The Boston Red Sox' Craig Kimbrel pitches in the the 12th inning against the Baltimore Orioles at Oriole Park at Camden Yards in Baltimore, Maryland, on Monday.
Photo: AFP
"We're getting guys on, we're just not getting that hit with guys in scoring position," Holt said. "That'll turn."
Xander Bogaerts led off the 12th with a single against Mychal Givens (0-3), and the Red Sox loaded the bases before Holt broke the scoreless deadlock with a fly to center. Bradley followed with a fly ball to score Rafael Devers, who had doubled.
Heath Hembree (3-1) struck out the side in the 11th and Craig Kimbrel got three outs for his 21st save.
"It was a very well-pitched game by everybody that was on the mound today, from the starter all the way through Craig," said Brandon Workman, who contributed 1 1/3 innings of one-hit relief. "Everybody threw the ball well. Put up 12 zeros. That's hard to do at any level of baseball."
It was the fifth straight loss for the Orioles, who have been shut out seven times this season. Baltimore left 13 on base and went 0 for 8 with runners in scoring position.
"We had plenty of opportunities," manager Buck Showalter said. "We just couldn't get that hit that's been eluding us for it seems like quite a while."
Orioles starter Dylan Bundy gave up three hits over eight innings. He struck out seven, walked two and did not permit a runner to reach third base.
It was his fourth scoreless outing of the season, the second in a row. Last week, the right-hander blanked the Mets on three hits in seven innings.
Wright was going up against an offense that ranked last in the American League in runs and was missing ailing slugger Manny Machado. The knuckleballer allowed four hits over 6 2/3 innings. In the seventh, after Baltimore used two walks and an infield hit to load the bases with two outs, Joe Kelly entered and struck out Adam Jones with a 97 mph fastball.
Red Sox outfielder Mookie Betts was reinstated from the disabled list before the game and went 1 for 5 in the leadoff spot. Betts, who came in with a major league-leading .359 batting average, missed 14 games with an abdominal strain.
CUBS 7, BREWERS 2
In Milwaukee, Wisconsin, Anthony Rizzo turned on the power with a long homer down the right-field line in the 11th inning. Jason Heyward delivered a tying single in the eighth against one of the toughest relievers in baseball.
The Chicago Cubs dented the Milwaukee Brewers' normally lights-out bullpen to return to first place in the National League Central.
Rizzo's shot opened the scoring in a five-run 11th, and Heyward drove in three runs during a 7-2 victory that gave the Cubs a half-game lead in the division.
"Today we piled on late. You could see what we're capable of doing," manager Joe Maddon said.
Rizzo hit a fastball down the middle from Matt Albers (3-2) for a towering shot that snapped a 2-all tie. The Cubs scored four more runs in the inning with two outs, including a two-run double by Heyward.
Trailing 2-1 most of the night, the Cubs scored six times over the last four innings against the Brewers' formidable bullpen. They won their seventh straight over Milwaukee.
"It would be nice to get [the offense] rolling, whether it's earlier in the game with runners in scoring position ... take some heat off the bullpen and not have to play extra innings," Maddon said.
Cubs relievers tossed five scoreless innings, with Randy Rosario (3-0) retiring all six batters he faced for the win.
"They do all the little things well. They don't make mistakes," Brewers outfielder Ryan Braun said. "We still have to get better at some of those things I think to consistently play as good of baseball as they do."
After being held to one run by Brewers starter Junior Guerra, the Cubs broke through in the eighth against a bullpen with a league-best 2.53 ERA. The left-handed-hitting Heyward, who had three hits, tied the game at 2 with a run-scoring single to right field off lefty reliever Josh Hader.
Left-handed hitters were two for 36 against Hader before Heyward's single.
"We just know the guy's got good stuff," Heyward said. "So if something's there, just keep it simple, take what he gives you."
Albers allowed five runs and three hits, leaving with two outs in the 11th. His ERA ballooned from 1.93 to 3.45.
He said he was expecting Rizzo to swing at the first pitch, but his fastball did not sail up and in as planned.
"I just didn't quite get it to the spot I wanted to. That's pretty much the story of my outing there — just not executing," Albers said.
Guerra struck out four while allowing five hits and two walks, aided by two double plays and two highlight-reel catches in left by Braun.
He made a diving grab to prevent Rizzo's flare from falling for a hit to lead off the fourth. Two innings later, Braun made a leaping catch at the wall to rob Willson Contreras of a tying homer.
Braun held the glove behind his back after coming down with the ball and swaggered for a few steps toward the infield before shrugging and revealing the ball in his mitt.
"It was a lot more fun than when they scored all those runs, but I take a lot of pride in my defense," Braun said.
The Cubs got an effective outing from starter Jose Quintana, who allowed four hits, two walks and struck out three over six innings. The left-hander gave up solo homers to Erik Kratz and Jonathan Villar.
In Monday's other games, it was:
‧ Mariners 5, Angels 3
‧ Diamondbacks 9, Pirates 5
‧ Indians 4, White Sox 0
‧ Marlins 7, Giants 5
‧ Rays 8, Blue Jays 4
‧ Cardinals 5, Padres 2
Comments will be moderated. Keep comments relevant to the article. Remarks containing abusive and obscene language, personal attacks of any kind or promotion will be removed and the user banned. Final decision will be at the discretion of the Taipei Times.