Warriors are still golden
'GOT THE BEST OF ME': LeBron revealed that he had been playing with a broken right hand ever since letting out his frustration over their missed chances in Game 1
There were still a few seconds left on the clock when the Golden State Warriors stormed off their bench to begin a celebration that was not guaranteed.
They could not wait any longer. They had reached their destination: dynasty.
Stephen Curry scored 37 points, Kevin Durant added a triple-double and another NBA Finals MVP trophy, and the Warriors won their second straight title and third in four years on Friday, 108-85 over the Cleveland Cavaliers to complete a sweep and perhaps drive LeBron James from his home again.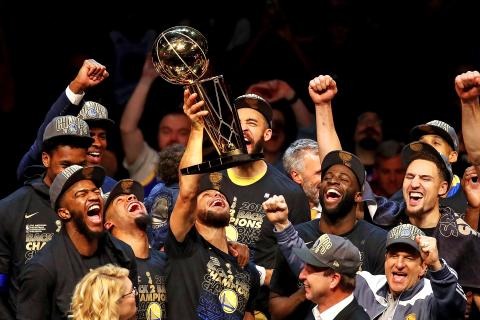 The Golden State Warriors lift the Larry O'Brien Trophy after defeating the Cleveland Cavaliers in Game 4 of the NBA Finals on Friday in Cleveland, Ohio.
Photo: AFP
"That's how you know we're a great team, is when everybody's coming after us," Durant said. "Whether it's opponents, whether it's different coaches panning for us, whether it's the fans, the media that hate us, it feels good when you're the team that everybody's gunning for. It makes us better."
Overcoming obstacles all season long, the Warriors won their fourth straight Finals matchup against Cleveland with ease.
"Looking at this playoff journey, we knew it wasn't going to be as easy as last year," Curry said. "Then the challenges that faced us. In October, we wanted to be back in this moment, and a lot went into it. It's a great feeling to be back here."
It was the first sweep in the Finals since 2007, when James was dismissed by a powerful San Antonio team in his first one. His eighth straight appearance did not go well either, and now there is uncertainty where the superstar will play next.
James, who said he "pretty much played the last three games with a broken hand" after injuring himself in frustration following Game 1, finished with 23 points and spent the final minutes on the bench, contemplating what went wrong and maybe his next move.
Following the game, he sat quietly in his corner locker with a towel draped over his head.
He arrived at his post-game news conference with a large black brace on his right hand and explained the injury was "self-inflicted" following an overtime loss in Game 1, which included a reversed official's call and teammate J.R. Smith dribbling out the clock to end regulation.
"I had emotions of you just don't get an opportunity like this on the road versus Golden State to be able to get a Game 1, and I let the emotions get the best of me," James said. "Pretty much played the last three games with a broken hand, so that's what it is."
Not wanting to give the Cavs or their fans any hope, despite no team ever overcoming a 3-0 deficit in the NBA playoffs, the Warriors built a nine-point halftime lead when Curry ignored a closeout by James and dropped a three-pointer.
By the start of the fourth, the only question was whether Curry would win his first Finals MVP or if it would go to Durant for the second year in a row.
Again, it was Durant, who added 12 rebounds and 10 assists — more validation for a player who could not beat the Warriors, so he joined them.
After surviving a rougher-than-usual regular season and beating top-seeded Houston in Game 7 on the road in the Western Conference Finals, the Warriors joined an elite group of teams to win multiple championships in a four-year span.
Only Bill Russell's Boston Celtics, the "Showtime" Lakers and the Los Angeles squad led by Kobe and Shaq, and Michael Jordan's Chicago Bulls have been as dominant in such a short period of time.
The path to this title was more precarious than the first two for coach Steve Kerr and the Warriors, who overcame injuries, expectations, a built-to-dethrone-them Rockets team and the brilliance of James.
"I have no idea at this point," James said when asked if he played his final game for the Cavs. "The one thing that I've always done is considered, obviously, my family. So sitting down and considering everything, my family is a huge part of whatever I'll decide to do in my career, and it will continue to be that."
James averaged 34 points, eight-and-a-half rebounds and 10 assists in the series, but again did not have enough help.
Right now, Golden State is on another tier, and with Durant expected to re-sign in weeks and Curry, Tristan Thompson, Draymond Green and the rest still young and hungry, their reign could last much longer.
"We've got a lot of three-time, two-time champs in there and we'll have plenty of time in our lives to discuss that later," Curry said. "So want to keep this thing going as long as we can."
James' future is not the only one in question. Cavs coach Tyronn Lue, who took a medical leave this season while battling anxiety, said he intends to return.
"I had some tough problems going on throughout the course of the season and I probably could have folded myself, but I wasn't going to do that," he said. "I knew that even if I wasn't feeling 100 percent, I had to get back for the playoffs. That's my time. That's my moment."
Comments will be moderated. Keep comments relevant to the article. Remarks containing abusive and obscene language, personal attacks of any kind or promotion will be removed and the user banned. Final decision will be at the discretion of the Taipei Times.