Cavs beat Celtics to make NBA Finals
UNSTOPPABLE: LeBron James played all 48 minutes in Boston, scoring 12 of his 35 points against the Celtics in the fourth quarter for his sixth consecutive Game 7 win
With another Game 7 victory at stake, LeBron James would not sit out.
He would not say goodbye to Cleveland again — not yet, anyway, and he would not be denied an eighth straight trip to the NBA Finals.
The four-time league Most Valuable Player on Sunday scored 35 points with 15 rebounds and nine assists to lead the Cleveland Cavaliers to an 87-79 win over the Celtics and eliminate Boston from the Eastern Conference Finals.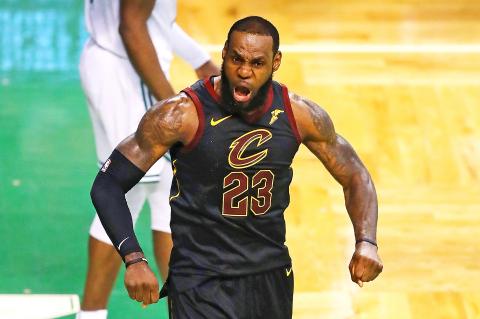 LeBron James of the Cleveland Cavaliers gestures in Game 7 of the Eastern Conference Finals against the Boston Celtics in Boston, Massachusetts, on Sunday.
Photo: AFP
"He's had a lot of gaudy games, but I just think Game 7, in Boston, all the circumstances that surround Boston, the history ... to come here in a hostile environment: [It is] right there," Cavaliers coach Tyronn Lue said.
In the first close game, the lowest-scoring and the first victory for a road team in the series, James played all 48 minutes, scoring 12 of his points in the fourth quarter for his sixth straight Game 7 win.
Lue used his timeouts to get his star an extra few minutes of rest when he could and James did not warm up at halftime to conserve energy.
"It was asked of me tonight to play the whole game and I just tried to figure out how I can get through it," James said.
James played all 82 regular-season games for the first time in his career and is already at 100 for the year with at least four more to come. He tired late in Game 5, when the Celtics won their 10th straight at home in the post-season.
Celtics coach Brad Stevens said the plan was to wear James out.
Nice try.
"Our goal going into the series was to make him exert as much energy as humanly possible and try to be as good as we can on everybody else," Stevens said. "For the most part, I thought we were pretty good at that ... but he still scored 35. It's a joke."
For James, a potential free agent, the victory postponed a decision about his future until next month.
Now, the only question is who the Cavaliers will play for a chance at their second title in three years: The Rockets were due to host Game 7 of the Western Conference Finals against the Golden State Warriors yesterday and the winner is to host the opener of the NBA Finals on Thursday.
The Cavaliers are expected to be underdogs against either.
"We have an opportunity to play for a championship," James said. "It doesn't matter what the story line is going to be, it doesn't matter if we're picked to win or not. I'm the wrong guy to ask. I just like to compete."
James has been in the NBA Finals every year since 2011 — four with Miami and now four straight with Cleveland.
He had to do it without Kevin Love — Cleveland's only other All-Star — who sustained a concussion in Game 6.
"We said we want to do this for Kevin," Lue said. "Kevin wanted to play, to be in a Game 7 situation like this in the Eastern Conference Finals, being an All-Star, being our second-best player, and he just wasn't able to go."
Comments will be moderated. Keep comments relevant to the article. Remarks containing abusive and obscene language, personal attacks of any kind or promotion will be removed and the user banned. Final decision will be at the discretion of the Taipei Times.