Curry shines in his return as Warriors defeat Pelicans
Long before tipoff on Tuesday night, Stephen Curry swished his routine tunnel shot on the second try. Once the game began, the two-time Most Valuable Player stood along the bench anxiously waiting for his turn, shaking his legs and clapping his hands with nervous energy and anticipation.
Then — mouthpiece dangling, of course — Curry finally entered at the 4 minute, 20 second mark of the first quarter to a roaring ovation from the Oracle Arena crowd and immediately got to work.
He knocked down a three-pointer from the left wing 11 seconds later and was off and running in Golden State's 121-116 victory over the New Orleans Pelicans.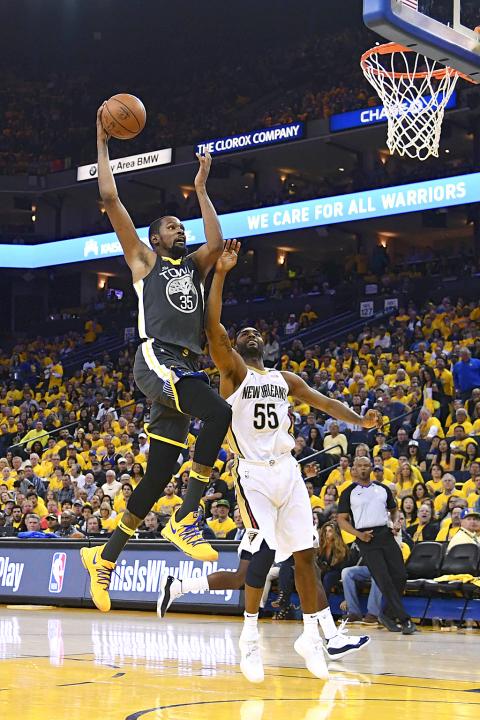 The Golden State Warriors' Kevin Durant, left, dunks over the New Orleans Pelicans' E'Twaun Moore in Game 2 of the NBA Western Conference semi-finals in Oakland, California, on Tuesday.
Photo: Kyle Terada-USA TODAY
"It was an eternity it felt like, for sure," Curry said. "When the lights come back on after the starting lineups you're usually in the go kind of mind frame. I had to kind of pace myself and be patient with it. It seemed like it took forever, but it was a good feeling to get back out on the floor and just let loose and have fun."
Curry came off the bench to score 28 points in a triumphant return from a knee injury and nearly six weeks off, as the Warriors held off Anthony Davis and the pesky Pelicans to go ahead 2-0 in the Western Conference semi-finals.
All is right with the Warriors again now that No. 30 is back on the floor — even as a backup.
"It brought a lot of life to the building, a lot of life to our team's spirit. Pretty fitting for sure," Draymond Green said of Curry's immediate three-pointer.
Kevin Durant scored 29 points with a huge three-pointer with 3 minutes, 10 seconds to play, to go with seven assists and six rebounds in Golden State's franchise-record 14th consecutive post-season victory at Oracle Arena.
Green contributed 20 points, 12 assists and nine rebounds while battling Davis on both ends all night.
Davis finished with 25 points and 15 rebounds, while Jrue Holiday had 24 points, eight rebounds and eight assists for the Pelicans, who also got 22 points and 12 assists from Rajon Rondo.
"It was tough," Davis said. "We were in it the whole game."
Andre Iguodala converted a snazzy three-point play with 6 minutes, 41 seconds left, when he flipped the ball up and it came back down and through the net as he was fouled by Rondo, then Golden State pulled away.
The best-of-seven series resumes with Game 3 tomorrow at New Orleans.
Curry shot eight for 15 with five three-pointers and grabbed seven rebounds in 27 minutes. He let it fly for a 30-foot three-pointer in the closing minute of the third.
"He's going to score," New Orleans coach Alvin Gentry said.
The Warriors were focused on keeping their edge after a blowout victory in Game 1.
Just the energy Curry brings helped that cause. The whole place came alive when he made his first appearance on the floor.
"That was a special moment when Steph checked into the game," Warriors coach Steve Kerr said.
The game had its quarrelsome moments.
Curry made a bounce pass in transition to Iguodala late in the third and Solomon Hill was hit with a flagrant one for grabbing Iguodala's neck area as he shot. That came 14 seconds after a double-technical against Davis and Green after they got tangled and rolled around and over each other.
"I live for playoff basketball. It's the most fun time of the year for me," Green said.
Comments will be moderated. Keep comments relevant to the article. Remarks containing abusive and obscene language, personal attacks of any kind or promotion will be removed and the user banned. Final decision will be at the discretion of the Taipei Times.