Japanese Ohtani mania hits Anaheim
Shohei Ohtani is turning Angel Stadium in Anaheim, California, into a favored destination for Japanese tourists and expatriates looking to see their beloved countryman in action as he shines in his first season in the major leagues.
Japanese baseball fans came out in droves on a pleasant evening on Thursday to see the Los Angeles Angels slugger, who is also a starting pitcher, play the Boston Red Sox to an 8-2 loss.
"The Angels are going to make more money from the tourists, in the summertime especially," Taro Endo, who moved to southern California 30 years ago, told reporters before the game.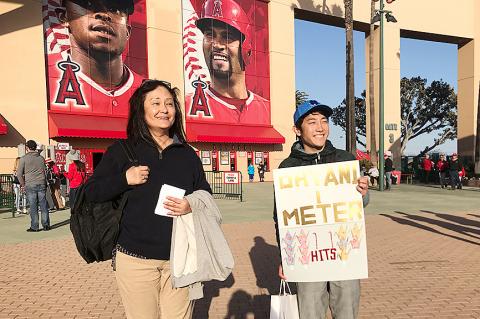 Mickey Misawa of Irvine, left, and Masaaki Nishida of Tokyo, right, come out to root for Shohei Ohtani at a Los Angeles Angels game in Anaheim, California, on Thursday last week.
Photo: Reuters
"It's nice weather and close to the homeland," said Endo, who was accompanied by two friends who were visiting from Japan.
The towering 23-year-old Ohtani was a highly sought after free agent in the off-season and came roaring out of the gates of his rookie campaign, hitting home runs in three consecutive games, while dominating in two of his three starts on the mound.
Inside the stadium, Ohtani jerseys are flying off the racks and a newly released four-armed Ohtani bobblehead, which depicts him both batting and pitching, was expected to be a top seller as well, sales staff said.
Endo said Ohtani is part of a long tradition of Japanese players such as Hideo Nomo, Hideki Matsui and Ichiro Suzuki who have succeeded in the US despite obstacles.
"I respect everyone because they don't speak good English, but still they wanted to play in the United States," he said. "I feel so great because I'm one of them. I came to the United States looking for something here."
Twenty-five-year-old Masaaki Nishida of Tokyo came directly from the airport to the stadium for the game on his first-ever trip to the US and held a homemade Ohtani sign in hand.
"Japanese super player," said a beaming Nishida, who plans to catch three games at the "Big A" before heading back to Japan. "Let's go Ohtani."
POWERFUL BUZZ
UCLA students Chisei Mizuno and Yukina Takamura said the buzz around Ohtani was powerful enough to convince them to purchase tickets to their first-ever baseball game, even though they admitted to knowing little about the sport.
"Because Ohtani's here we decided to come out and watch the man play," said the 22-year-old Mizuno, who has lived in the US for about 10 years.
Twenty-year-old Takamura, an exchange student from Japan studying Asian-American studies, nodded in agreement.
"In Japan all the newscasters always talk about all these Japanese players doing well in the US, which is why I think there's so much hype," Mizuno said.
Yoshiyuki Muraishi, who moved from Japan to southern California almost 17 years ago, sported a crisp new Angels cap and said his allegiance to Ohtani led him to support the Angels despite his previous devotion to the Los Angeles Dodgers.
"I have always been a Dodgers fan, but this year because of Ohtani, I am hoping that the team itself does well," said Muraishi, who lives in nearby Torrance, which is home to the second-largest number of Japanese-Americans in the US.
Torrance is the North American headquarters for Japanese auto company Honda and until last year was also the site of Toyota's North American headquarters.
Muraishi said Ohtani's success is helping to shrink the gap between Japanese living in the US and those back home.
"It's one extra reason to reconnect with my many friends and family members back in Japan," he said.
Comments will be moderated. Keep comments relevant to the article. Remarks containing abusive and obscene language, personal attacks of any kind or promotion will be removed and the user banned. Final decision will be at the discretion of the Taipei Times.