McCutchen hits homer as Giants clobber Angels
Andrew McCutchen hit a towering, three-run homer, Mac Williamson hit a two-run homer in his first big league game this season and Nick Hundley also connected to back Jeff Samardzija in the San Francisco Giants' 8-1 win against the Los Angeles Angels on Friday night.
The Angels had only five hits, including a homer by Mike Trout, a double by Albert Pujols for his 2,991st career hit and two singles by Shohei Ohtani.
Samardzija (1-0) just made it through five innings to qualify for the win. He walked the bases loaded with two outs before manager Bruce Bochy came out for a mound visit. Justin Upton drove Samardzija's next pitch to the warning track in left field, where Williamson caught it. Samardzija flinched at first, thinking it was gone, and then smiled as he walked toward the dugout. Bochy smiled and clapped his hands.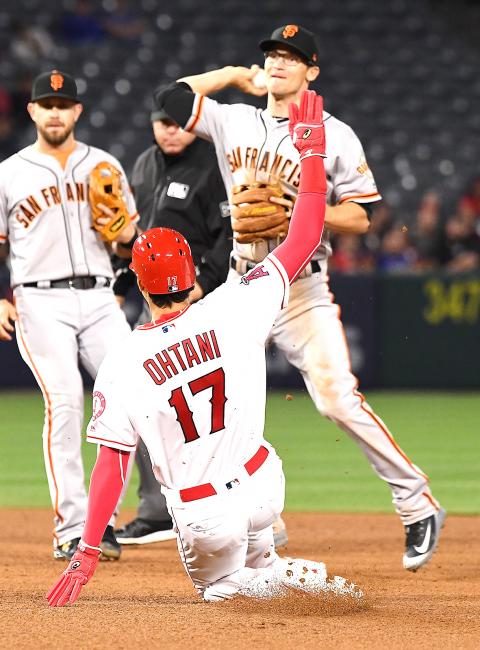 Kelby Tomlinson of the San Francisco Giants throws to first as Shohei Ohtani of the Los Angeles Angels is out on a double play to end the game in the ninth inning at Angel Stadium in Anaheim, California, on Friday.
Photo: AFP
Samardzija opened the season on the disabled list with a pectoral strain suffered during spring training. He allowed two hits in five innings, struck out four and walked four.
Ohtani had the Angels' first hit off Samardzija, a single to center field with two outs in the second. Ohtani had gone 0 for 4 with three strikeouts the night before as the Boston Red Sox completed a sweep. The designated hitter singled again in the ninth.
McCutchen, the designated hitter, drove a 1-2 pitch from Andrew Heaney into the Giants' bullpen beyond the left-field fence with one out in the fifth to chase the left-hander.
Heaney (0-1) allowed the first five batters hits in the fifth. He allowed Williamson's homer to right field and an RBI single by Austin Jackson.
Hundley hit an opposite-field shot to right field in the second, his first. He added an RBI double in the eighth.
Trout homered to left-center field off Pierce Johnson in the eighth, his seventh. Two batters later, Pujols drove a ball to the base of the fence in center field before being replaced by pinch-runner Jefry Marte.
Angels manager Mike Scioscia is not sure if the seams on big league baseballs are what caused the blister on the middle finger of Ohtani's right hand, which forced the Japanese two-way sensation out after just two innings on Tuesday night against Boston in his third major league pitching start.
"He worked very hard getting used to our baseball starting last winter," Scioscia said. "Blisters ... come and go with pitchers occasionally at some point. Exactly when they crop up with some guys is a mystery. There are probably a lot of things that came into play for Shohei to have his [blister] become significant to where it affected some of his pitches, but I don't know if there's any one reason that you could pin down right now. He feels much better. We got him out in time during the last start where it didn't get any worse and hopefully he'll be able to make his next start."
Some pitchers blamed slicker balls for blisters last season.
Comments will be moderated. Keep comments relevant to the article. Remarks containing abusive and obscene language, personal attacks of any kind or promotion will be removed and the user banned. Final decision will be at the discretion of the Taipei Times.