Renault to enter e-sports with an eye on virtual Formula One championship
Renault on Monday announced its entry into the world of e-sports and said it was also targeting the virtual Formula One (F1) championship.
The French car manufacturer, which has its own F1 team that last won titles in 2006, said it had joined forces with France's Team Vitality to compete in a program of motorsport-based competitions.
Renault Sport Team Vitality is to participate in this year's Rocket League Championship Series Europe, which has more than 25 million players.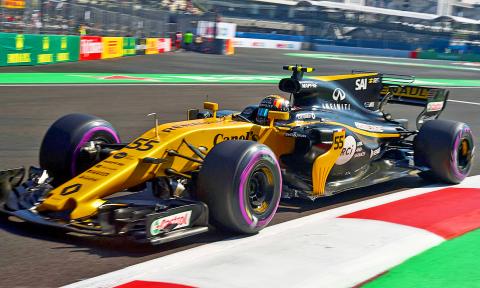 Renault's Carlos Sainz drives in the Mexican Grand Prix free practice at the Autodromo Hermanos Rodriguez in Mexico City on Oct. 27 last year.
Photo: AFP
"We are also in discussion with F1 to compete in the Formula One e-Sports Series," Renault said in a statement.
It added that Renault Sport Racing would give the e-sports team's players access to its F1 factory at Enstone, in central England, to train with racing drivers and technical staff.
F1 held its first e-sports series finals in Abu Dhabi at the end of last year's season, with the title won by 18-year-old British kitchen manager Brendon Leigh after more than 63,000 contestants had entered worldwide.
Renault is the first F1 team to have an official e-sports tie-up, although McLaren's Fernando Alonso set up his own outfit in November last year.
McLaren also recently recruited an official simulator driver through its World's Fastest Gamer competition.
Darren Cox, the man behind that, last year said he could see the Grand Prix teams racing each other in the virtual world as well as the real one this year.
"If you look at what the NBA has done... they engaged the teams right at the beginning. So 17 of the NBA teams have got franchises for the virtual side of the sport and there's a draft like in the real world. So expect something like that to come out of [F1 owners] Liberty," Cox said. "It's happening now. Those conversations are being had."
Renault F1 Managing Director Cyril Abiteboul said the ties between motorsport and gaming were obvious, with both demanding mental strength and physical fitness in a competitive environment.
"Last year's exciting launch by FOM [Formula One Management] of the Formula One e-Sports Series has accelerated the convergence of these two worlds and created opportunities for collaboration," Abiteboul said. "Our drivers, and especially those who form part of the Renault Sport Academy program, and Vitality's own champions will be able to trade best practices."
Comments will be moderated. Keep comments relevant to the article. Remarks containing abusive and obscene language, personal attacks of any kind or promotion will be removed and the user banned. Final decision will be at the discretion of the Taipei Times.