War amputee soccer players shoot, score in Syria
At the referee's whistle, a young forward leans on his crutches and punts the football with his only leg, kicking off a match between war amputees in Syria's battered northwest.
What follows is a different take on soccer: men of all ages, some using crutches, deftly pass the ball back and forth as they sail across the field.
The ball reaches the attacker, who steadies himself on his crutches and uses his sole leg to send it flying toward the goal.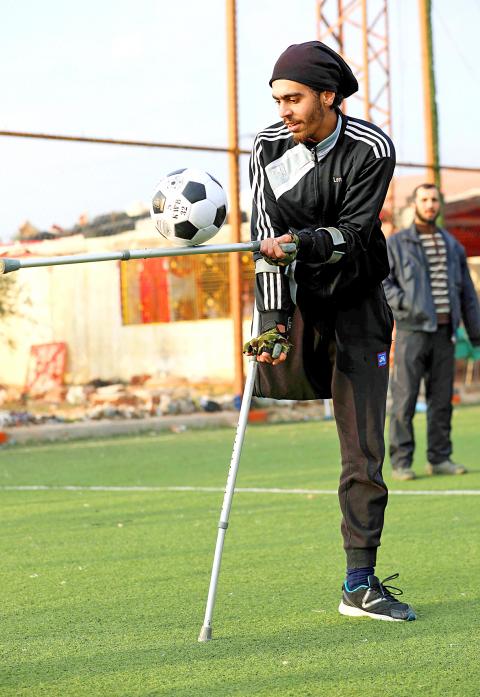 A man using crutches takes part in a football training session in Idlib, Syria, on Jan. 12.
Photo: AFP
The goalkeeper, who is missing his right arm, dives to his knees to make a save, but the ball bounces past him into the net amid cheers and whistles.
For the past month, a physiotherapy center in Syria's northwest Idlib Province has been training 19 war-wounded men and boys to establish a soccer team.
Idlib is the last province in Syria still outside government control and has faced a weeks-long regime assault backed by Russia.
Some players are civilians, others are fighters — but they have been brought together by their impairments and their shared love for soccer.
"Sometimes, the ball crosses right in front of me and I want to shoot it with my left leg, then I feel sorry for myself because my leg's amputated," said Salah Abu Ali, sitting on the sun-soaked edge of the pitch. "Some things are still hard, like running or being fast."
The 23-year-old player was wounded nearly a year ago in a bombardment on his native Raqa, a Syrian city recaptured from the Islamic State group.
He woke up in the hospital to find his leg had been amputated and decided to seek safety to the west in rebel-held territory.
"When I first arrived in Idlib, I didn't know anyone. I just thought of the past. I didn't want to work, go out. I didn't like to see people or let them see me," Abu Ali said.
However, when he found the soccer team, he said it was like getting "a new life."
"I lost a limb, but life goes on — I want to live my life as positively as possible. I want to play football, swim, come and go," he said.
Founded just over a year ago, the rehabilitation center that runs the soccer sessions is housed in Idlib's Specialist Hospital.
It has treated about 900 war-wounded, including men and women of all ages with injuries ranging from simple fractures to amputations, physiotherapist Mohammad Marea said.
"We had a psychological objective in training these guys, but also wanted to target their morale," Marea said. "Thank God, they responded quickly and happily, accepting the idea wholeheartedly."
Soccer player train two or three times a week, for sessions of up to two hours.
Those that have prosthetic legs prop them up against the metal fence — they move faster without them — and wrap amputated limbs in protective gauze.
At a recent friendly match, opposing players wearing mint-green and red jerseys grappled over the ball on a pitch set up by a charity.
However, war is never far away. On Saturday last week, one player was killed in a bomb blast in Idlib.
Comments will be moderated. Keep comments relevant to the article. Remarks containing abusive and obscene language, personal attacks of any kind or promotion will be removed and the user banned. Final decision will be at the discretion of the Taipei Times.