Spain, Sweden reach Euro final
Both favorites were on Friday knocked out of the European Men's Handball Championship semi-finals as Spain beat world champions France 27-23 and Sweden edged Olympic title holders Denmark 35-34 after extra time.
Goalkeepers took center stage in both games as Spain's Arpad Sterbik, called up as a late replacement for the injured first-choice Perez de Vargas, stopped three penalties while Sweden's Andreas Palicka racked up a barrage of saves.
France and Denmark are to meet in the bronze medal match today before Spain, who are aiming for their first European title after four silver medals, meet former quadruple champions Sweden in the imposing Arena Zagreb.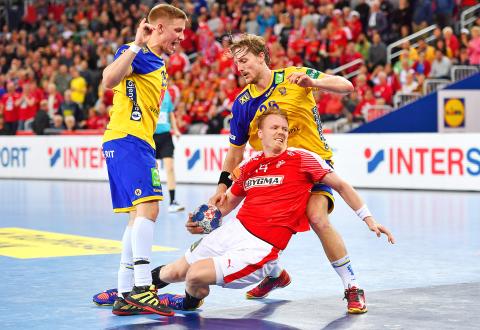 Denmark's Anders Zachariassen, center, vies with Sweden's Linus Arnesson, left, and Sweden's Jesper Nielsen, right, in the Men's 2018 European Handball Championship semi-final at Arena Zagreb in Croatia on Friday.
Photo: AFP
A normally prolific French attack was stifled by Spain's steely defense which gave playmaker Nikola Karabatic no room to operate and with the supply routes cut off, France trailed 15-9 at halftime.
Spain appeared to have wrapped up the match when they carved out a staggering 23-14 lead midway through the second half, but France then produced their best spell of the contest as they scored six unanswered goals.
Spain held their nerve in the closing stages though and romped into the final on the back of seven goals from right wing Ferran Sole and six from center back Raul Entrerrios.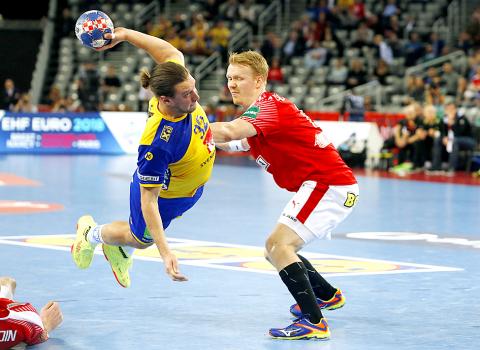 Denmark's Anders Zachariassen, right, in action against Sweden's Mattias Zachrisson, left, in the men's handball semi-final in Zagreb on Friday.
Photo: EPA
Sweden prevailed in an epic Scandinavian derby after taking a body blow on the buzzer, when livewire Denmark winger Lasse Svan netted to force extra time and seemingly shift the momentum his team's way.
Sweden had led throughout regular time and showed remarkable composure to regain the advantage in the additional 10 minutes, with Palicka frustrating the Danes whenever they looked likely to turn the tide.
Denmark's backs Mikkel Hansen and Rasmus Lauge topped the scoring with 12 and 11 goals respectively, but their valiant effort fells short against a more balanced Swedish outfit.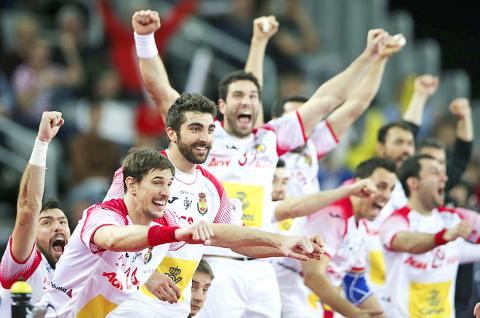 The Spanish team reacts after winning the men's handball semi-final against France in Zagreb on Friday.
Photo: Reuters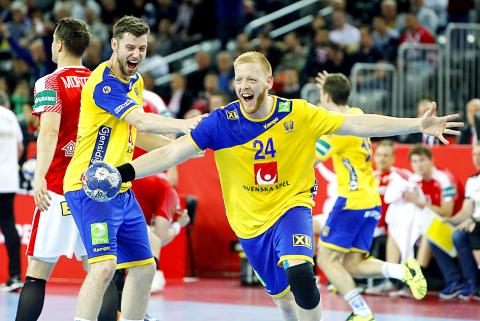 Swedish players Jim Gottfridsson, right, and Niclas Ekberg, left, celebrate their semi-final win against Denmark at the Men's Handball Championship in Zagreb on Friday.
Photo:EPA
Comments will be moderated. Keep comments relevant to the article. Remarks containing abusive and obscene language, personal attacks of any kind or promotion will be removed and the user banned. Final decision will be at the discretion of the Taipei Times.