Warm welcome for N Korean pair in Taipei
North Korean figure skaters Ryom Tae-ok and Kim Ju-sik were greeted by an enthusiastic crowd who threw them toys and flowers yesterday at the Four Continents championships in Taipei ahead of their highly anticipated Olympic bid.
Fans clapped and shouted at the end of their performance of Jeff Beck's rendition of The Beatles' A Day in the Life, with one spectator flying a South Korean flag.
Although their routine ranked them first initially in the pairs short program and gave them a personal record of 65.25 points, they were eventually edged out of the top three and ended fourth.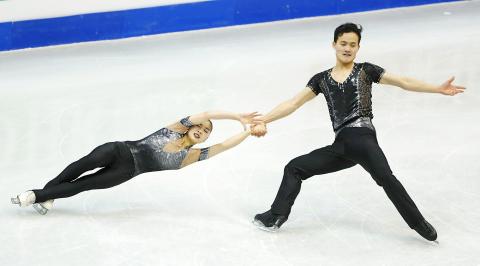 Ryom Tae-ok, left, and Kim Ju-sik of North Korea perform a pairs short program at the Four Continents championships in Taipei yesterday.
Photo: EPA
US duo Ashley Cain and Timothy Leduc placed first with 66.76 points, Australians Ekaterina Alexandrovskaya and Harley Windsor took second with 66.45, and Tarah Kayne and Danny O'Shea, also of the US, came third with 65.74.
Interest in the pair has skyrocketed since North Korea made a surprise announcement earlier this month that it was sending a team to the Winter Olympics in Pyeongchang, South Korea.
Dressed in silver and black outfits, Ryom caught a Pikachu toy thrown from the crowd after the performance, while Kim caught a flower. Their coach stood to applaud them at the rink gate and hugged them as they came off the ice.
The pair also skated to The Beatles track in September last year, when they secured their Olympic place at the Nebelhorn Trophy in Germany.
Speaking after the performance, Ryom, 18, said they were "not satisfied," according to the International Skating Union Web site.
"All competitions are important to us, so we will keep working hard, not only for the Olympics, but also for winning in upcoming competitions," Ryom said.
South Korean skater Kim Kyu-eun, who had to drop out from the pairs competition after her partner, Alex Kam, was injured, said the pair were "very friendly and kind, and a little bit shy."
Comments will be moderated. Keep comments relevant to the article. Remarks containing abusive and obscene language, personal attacks of any kind or promotion will be removed and the user banned. Final decision will be at the discretion of the Taipei Times.