On third try, Emily Sweeney makes Olympics
Emily Sweeney owns no clothing with the Olympic rings. She has refused to wear anything bearing that logo, instead sometimes staring at those who were and wondering if her chance would ever come.
At long last, it is here.
Olympic gear is coming her way and it was well-earned. Sweeney is one of three women on the team that USA Luge is sending to the Games in February, after clinching her spot earlier this month and ending an eight-year odyssey that had more twists and turns than the ice-coated winding chutes that she slides down to make a living.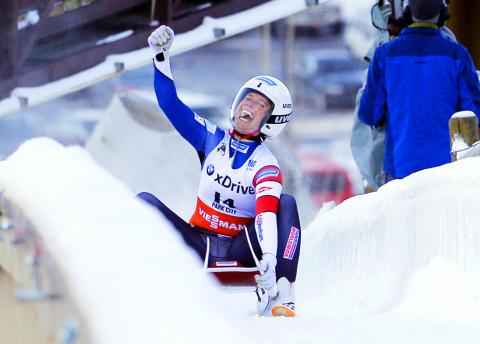 Emily Sweeney celebrates as she slides to the finish second at a women's World Cup Luge sprint event in Park City, Utah, on Dec. 17 last year.
Photo: AP
"It doesn't feel real," Sweeney said. "I feel exactly the same as I did before."
Much like a luge track itself, Sweeney's path to the Olympics has been long, cold, bumpy and treacherous.
She lost a race-off for the final spot on the 2010 US Olympic team — to her sister. She missed out again when trying to make the 2014 team for the Sochi Games, doomed in part by injuries. She is barely a year removed from surgery on a wrist that is still giving her problems, but this time, she handled every challenge.
Sweeney is No. 8 in the World Cup standings, won a gold medal in a sprint race in Germany earlier this season and survived a US team selection process that went down to the final weekend.
Her spot was clinched in a most unceremonious fashion: It became mathematically secured on a night when she was not even at the track. Instead, she was alone doing laundry at the Olympic Training Center that she has called home for years.
"She's resilient, right? She had a goal and she went for it," her sister said, teary-eyed and beaming. "She was so aggressive. She's way better than I ever was."
Erin Hamlin is going to her fourth Olympics for the US and Summer Britcher is going to her second. Sweeney, who has spent 14 of her 24 winters on a luge sled, is the lone rookie on the women's team.
In a sport in which the Germans have always dominated and figure to do so again at these Olympics, the Americans are closing the gap.
Hamlin won Olympic bronze in Sochi. It would not surprise anyone if any of the US women found their way to the podium in Pyeongchang, South Korea, and Sweeney, 24, just figures to keep getting better.
"Not making the team in 2010 is one thing," Sweeney said. "It was fine. It obviously wasn't fine. I would have loved to have been there and competed with my sister. Not making the team in 2014 was a little crushing to me. It took me a long time to come back from that."
She took six months off after Sochi, did not do much training, did not go to those Olympics as a spectator. Retiring was not an option, but the zest for sliding was certainly waning at that point.
The US Army helped her get back on track. Sweeney is a sergeant and part of the army's World Class Athlete program. She needed to go through some scheduled military training a few months after Sochi. After three weeks of training, she knew she was ready to get back on the sled.
"Can't say no to the military," Sweeney said.
Now, her Olympic dream — the one she decided to pursue as a seven-year-old — is realized.
"I didn't have much doubt that she would get through this year," said Hamlin, Sweeney's close friend and long-time roommate. "She's been sliding really well and has the speed, for sure, to even contend for the podium at the games. She just had to have that confidence, she did and it's really nice to see. I went to the games with her sister in Vancouver, so I've come full circle. It's exciting."
Hamlin has had her Olympic gear for more than a decade and that means Sweeney has had to be in close proximity to all those shirts and hats and jackets and whatever else is part of the massive perk package bestowed on those who make the team.
Hamlin can relate to Sweeney's reluctance to wear any Olympic apparel, since she subscribes to the same theory.
"Not until you make the team," Hamlin said. "I wouldn't even wear Pyeongchang stuff until I made the team. No chance. You haven't earned it yet. You can't wear the garb if you haven't earned it."
The day after she clinched the Olympic berth, Sweeney joined Hamlin and Britcher at an autograph-signing for fans at the team's home track in Lake Placid, New York. Over and over, smiling the whole time, she scribbled her signature, then wrote "USA" in the space between the elongated Y's at the end of her first and last names.
"It's been a very long road," Sweeney said. "I've learned how to deal with disappointment. I haven't really learned how to deal with this yet."
Comments will be moderated. Keep comments relevant to the article. Remarks containing abusive and obscene language, personal attacks of any kind or promotion will be removed and the user banned. Final decision will be at the discretion of the Taipei Times.