'Splash brothers' lead Dinos to win
Pauian Archiland yesterday nabbed their fifth Super Basketball League (SBL) win of the season, downing Taiwan Beer 82-75 at Taipei Heping Gymnasium, while on Friday, Lu Cheng-ju and Chou Shih-yuan shot a combined 39 points to lead the Yulon Luxgen Dinos to a 99-79 win over Kinmen Kaoliang.
The dynamic duo, nicknamed "Taiwan's splash brothers" for their shooting, thrust the Dinos to a 50-39 lead at halftime and helped them cruise the rest of the way to a victory.
Four Yulon players finished in the double digits: Lu (21), Chou (18), forward Wu Yi-ping (16) and Australian center Luke Nevill (12).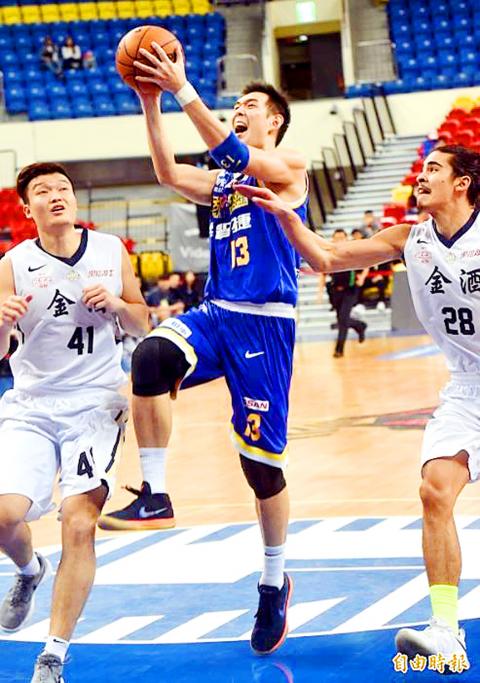 Lu Cheng-ju of the Yulon Luxgen Dinos, second left, prepares to score three of his 21 points in Friday's game against Kinmen Kaoliang.
Photo: Chien Jung-fong, Taipei Times
Kinmen relied heavily on big Puerto Rican center Peter John Ramos, who had a double-double with the game-high 32 points and 16 rebounds.
Kinmen's other star on Friday was forward Su Yi-chin, who also posted a double-double with 14 points and 11 rebounds.
Yulon's Lu and Chou had a strong comeback from their devastating 93-69 defeat to the Fubon Braves on Thursday, when the duo netted only 10 points combined.
"We were too flat in our approach in the previous game and were closed down too easily. Tonight our transition game to push the ball into the other end went much better and quicker. We created many chances and always found an open man to score," Lu said.
"We had two wins and two defeats in our past four games. I believe we can maintain our offensive output, but the key is in defense," Lu added. "If our team can concentrate and play good defense, then we have a good chance of winning."
Also on Friday, Bank of Taiwan left Taiwan Beer in the dust 72-66, also at Taipei Heping Gymnasium.
The Bankers' starting trio — forward Chen Shun-hsiang, guard Chang Po-shun and US center Charles Garcia — spearheaded the attack to collect 19, 17 and 17 points respectively.
Guard Chiang Yu-an was the Brew Crew's top scorer with 18, while his Canadian teammate Liam McMorrow's double-double with 15 points and 18 rebounds was not enough to hand his team the win.
Taiwan Beer led by three points at the end of third quarter, only to be thwarted by the Bankers' tough defense, which took advantage of turnovers to string together scoring runs. Garcia nailed a three-pointer with 50 seconds remaining to put the Bankers ahead and held on to a six-point win.
"When we were behind, our players kept on fighting and did not give up. It was a hard-earned win, but our team had the determination and confidence to pull it off," Bank of Taiwan head coach Wei Chen-ming said. "I told them to enjoy this result, but do not become arrogant, because we have to work hard for every game."
SBL teams are to head south on Friday for 16 games at the Kaohsiung K-Arena. Then the action heads to Changhua County Stadium from Jan. 12 to Jan. 21, before returning north to the Taoyuan Arena at the end of next month.
Comments will be moderated. Keep comments relevant to the article. Remarks containing abusive and obscene language, personal attacks of any kind or promotion will be removed and the user banned. Final decision will be at the discretion of the Taipei Times.