Pollution stops play in New Delhi
Smog stopped play in the third Test between India and Sri Lanka in New Delhi yesterday, with players wearing face masks as the air quality dropped to hazardous levels.
The Press Trust of India said it was the first time in the 140-year history of Test cricket that an international side had taken to the field in face masks.
The US embassy Web site showed concentrations of the smallest and most harmful airborne pollutants in Delhi hit 384 — 15 times the WHO maximum — before returning to levels considered just "unhealthy."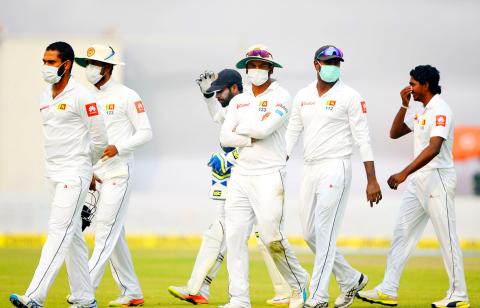 Sri Lanka players wear pollution masks as they walk off the field yesterday during the second day of the third Test against India in New Delhi.
Photo: AFP
Play was halted for about 20 minutes as Sri Lanka complained about the smog and the umpires consulted the match referee, team doctors and physiotherapists.
Play resumed, but the visitors protested twice more, and pacemen Lahiru Gamage and Suranga Lakmal returned to the pavilion, leaving the Sri Lankans running short of fielders.
This prompted Indian skipper Virat Kohli to declare his first innings on 536 for seven to get the Sri Lankan fielders off the ground.
The islanders were booed by Indian fans as their opening batsmen walked to the crease.
Play is routinely suspended due to poor weather, low visibility, lightning or rain, but a stoppage as a result of pollution is almost unheard of.
Indian sports commentator Ayaz Memon said the dramatic scenes sent an "unedifying message about Delhi's pollution" and urged authorities to combat the scourge.
India's powerful cricket board was less than impressed and said it would write to its Sri Lankan counterparts about the incident.
"If 20,000 people in the stands did not have problem and the Indian team did not face any issue, I wonder why Sri Lankan team made a big fuss?" said CK Khanna, acting president of the Board of Control for Cricket in India.
Sri Lanka were 131-3 at stumps, trailing India by 405 runs.
Angelo Mathews, on 57, and skipper Dinesh Chandimal, on 25, put together an unbeaten 56-run stand after the visitors lost their top three to an inspired Indian bowling attack.
AUSTRALIA V ENGLAND
Reuters, ADELAIDE, Australia
It is usually a sign of a day with few redeeming features when a coach rather than a player faces the media after play and yesterday's appearance of England's Trevor Bayliss was no exception.
When rain forced an early end to Day 2 of the second Ashes Test, England were 29-1 in reply to Australia's 442-8 declared, having thrown their best at their hosts only to come off second best.
Two decision review system referrals that overturned what looked to the naked eye to be plumb LBW decisions off the bowling of the luckless James Anderson were symptomatic of a day where little went right for the tourists.
When Alastair Cook and James Vince crashed into each other trying to take a simple catch to dismiss Shaun Marsh, who went on to make an unbeaten 126, memories of the 5-0 drubbing on the last Ashes tour down under started to surface.
England are already down 1-0 after a 10-wicket defeat at the Gabba, but a defiant Bayliss was not prepared to surrender to the gloom only two days into the first day-night Ashes Test.
"There's a good feeling in the dressing room," he told reporters. "They're certainly not disheartened at all. Shaun showed it's not impossible to score runs out there. It will be up to one or our guys to go out and make a big score."
Comments will be moderated. Keep comments relevant to the article. Remarks containing abusive and obscene language, personal attacks of any kind or promotion will be removed and the user banned. Final decision will be at the discretion of the Taipei Times.