Calgary's Gaudreau extends points streak to 10 games
Johnny Gaudreau would rather talk about anything other than his offensive production. He is just making it impossible to avoid.
Gaudreau on Monday had a goal and an assist to extend his career-best points streak to 10 games and lead the Calgary Flames to a 4-1 victory over the Washington Capitals.
Gaudreau, nicknamed "Johnny Hockey," has eight goals and 11 assists, and the Flames are 7-3-0 in that time.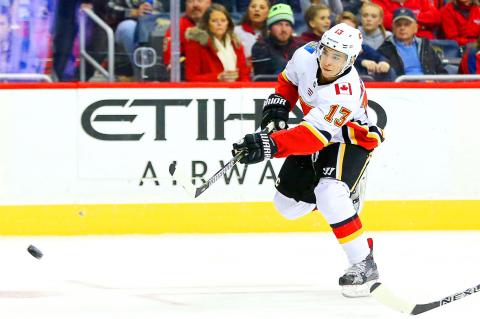 Johnny Gaudreau of the Calgary Flames scores against the Washington Capitals in their NHL game in Washington on Monday.
Photo: Geoff Burke-USA Today
"It's cool," Gaudreau said. "Coming into games, we're excited to find a way to find the net there. It's an exciting time right now. We're playing well, but you go through ups and downs throughout the season, and right now it's going well for us, so hopefully we can keep this going and keep playing well."
Gaudreau scored and assisted on Sean Monahan's goal, one of two on the power play for Calgary, who have won four of their past five.
Mikael Backlund and captain Mark Giordano also scored for the Flames, who got 29 saves from Mike Smith.
Monahan had a goal and an assist after a power-play hat-trick in a comeback victory on Saturday in Philadelphia.
Calgary's top line is clicking and everyone knows Gaudreau is the catalyst.
"He's making something happen every shift," Monahan said. "To be able to play on his line, it's a lot of fun right now. That confidence is hard to take away from a guy like that, so he's going to continue to do that."
Coach Glen Gulutzan sees confidence oozing from the winger from Carneys Point, New Jersey.
His goal tied the score at the 4 minutes, 49 seconds mark after Lars Eller struck first for the Capitals about a minute in, but Gaudreau's play in defense also stood out.
"What a coach likes more is his backcheck on [Alex Ovechkin] that lifted the stick," Gulutzan said. "I know he's going to get points because he's just that gifted, but his commitment to winning just shows itself night in, night out. I love that he's on the roll."
Washington goaltender Braden Holtby thought he should have stopped Gaudreau's shot.
"I need to make some saves," Holtby said. "There's some stoppable pucks there and that's the difference."
Comments will be moderated. Keep comments relevant to the article. Remarks containing abusive and obscene language, personal attacks of any kind or promotion will be removed and the user banned. Final decision will be at the discretion of the Taipei Times.