Swiss target PSG boss, ex-FIFA exec in World Cup probe
Swiss prosecutors have opened a criminal corruption probe targeting Paris Saint-Germain chairman Nasser al-Khelaifi and disgraced former FIFA executive Jerome Valcke over the sale of media rights for upcoming World Cups.
The Office of the Attorney General of Switzerland (OAG) said the probe opened in March and centers on allegations including bribery, fraud, criminal mismanagement and forgery.
Prosecutors indicated that al-Khelaifi, a powerful Qatari sports executive who is also head of bein Media Group, was under suspicion only for actions taken as the head of the sports media group, which operates on five continents.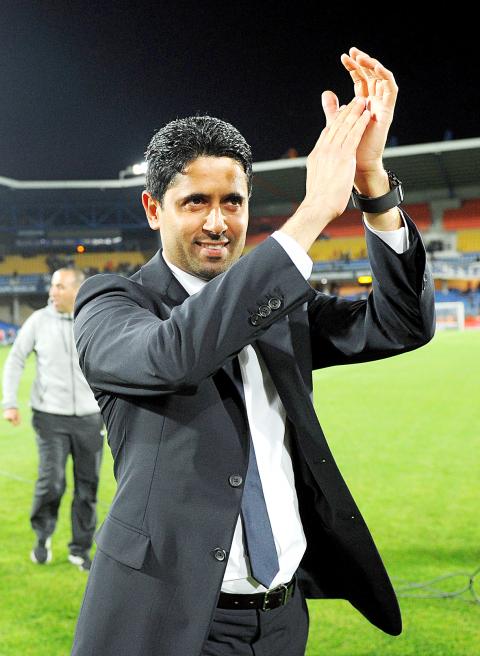 Paris Saint-Germain chairman Nasser al-Khelaifi applauds his team at Stade de la Mosson in Moutpellier, France, on May 16, 2015.
Photo: AFP
The Qatari broadcaster issued a statement denying any wrongdoing while confirming French authorities had raided the company's Paris offices following a Swiss request.
"Bein Media Group refutes all accusations made by [the] OAG. The company will fully cooperate with the authorities and is confident as to the future developments of this investigation," it said in a statement.
PSG, which grabbed headlines in August for its record signing of Brazilian superstar Neymar, is not implicated in the investigation.
Valcke, who was Sepp Blatter's right-hand man at FIFA, yesterday denied the allegations in an interview with French sports newspaper L'Equipe.
"They say there have been payments from Nasser to me in return for the sale of rights at a preferential rate, but I've received nothing from Nasser," he told the newspaper. "There has never been an exchange between Nasser and me. Never."
Valcke left the Swiss attorney general's office on Thursday evening after being interviewed as a suspect and "disputes all the allegations," his lawyer Stephane Ceccaldi said.
"He came out free, there is no coercive measure against him nor any bail payment," Ceccaldi said.
The OAG said there was a third suspect in the case, but identified him only as "a businessman in the sports rights sector."
Prosecutors said they had evidence indicating that Valcke "accepted undue advantages" from the businessman "in connection with the award of media rights for certain countries at the FIFA World Cups in 2018, 2022, 2026 and 2030."
Comments will be moderated. Keep comments relevant to the article. Remarks containing abusive and obscene language, personal attacks of any kind or promotion will be removed and the user banned. Final decision will be at the discretion of the Taipei Times.