Japan wins Asia title with 6-1 over Taiwan
Japan defeated Taiwan 6-1 in yesterday's final to win the title at the 28th Asian Baseball Championship, while South Korea finished third with a 15-0 demolition of the Philippines.
Both sides started with lefty pitchers — Daiki Tajima for Japan and Lu Yen-ching for Taiwan — as the matchup at the Sinjhuang Baseball Stadium in New Taipei City went scoreless early on.
The hosts had an opportunity to open the scoring with runners at the corners in the second and bases loaded in the third, but both times resulted in a double play.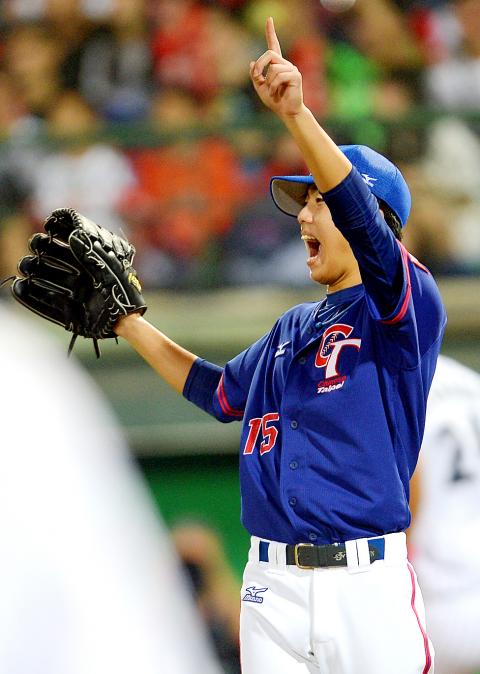 Taiwanese pitcher Lu Yen-ching cheers during yesterday's game against Japan in the 2017 Asian Baseball Championship in New Taipei City.
Photo: Lin Cheng-kung, Taipei Times
In the fifth, the visitors took advantage of the Taiwanese players' blunders and errant throws to post five runs.
In that pivotal rally, Japan got on base through two walks and three hits, including a home run by third baseman Shoji Kitamura, after a wild pitch by Lu allowed a run from third base.
Two Japanese players scored after Taiwanese center fielder Tai Ju-liang dropped a fly ball, as other fielding errors pushed the visitors ahead 5-0 at the end of the inning.
In the next inning, Taiwan pushed one run home, but Japan canceled it out with a run of their own in their bottom of the sixth to complete the final score.
In the battle for third place, defending champions South Korea pounded the Philippines with four runs in the first two innings and six runs in the sixth for a 15-0 shutout win.
With this latest title, Japan have asserted their dominance in the amateur tournament with their 18th championship crown since the competition began in 1954.
South Korea is far behind Japan with seven titles, although they came to Taiwan this year as defending champions.
Taiwan was the runner-up for the fourth consecutive time after losing to Japan in the finale in 2009 and 2012, and to South Korea in 2015.
Comments will be moderated. Keep comments relevant to the article. Remarks containing abusive and obscene language, personal attacks of any kind or promotion will be removed and the user banned. Final decision will be at the discretion of the Taipei Times.