Kiryu first Japanese to break 10 seconds
Yoshihide Kiryu yesterday smashed a national 100m record in a time of 9.98 seconds to become the first Japanese to break the 10-second barrier.
The 21-year-old, a member of Japan's silver-medal-winning men's 4x100m relay team at the Rio de Janeiro Olympics last year, shattered the previous record by 0.02 seconds at an intercollegiate meet in Fukui, Japan.
The Toyo University student started moderately in the final, but raced past his rivals in top gear and finished first with a 1.8m tailwind.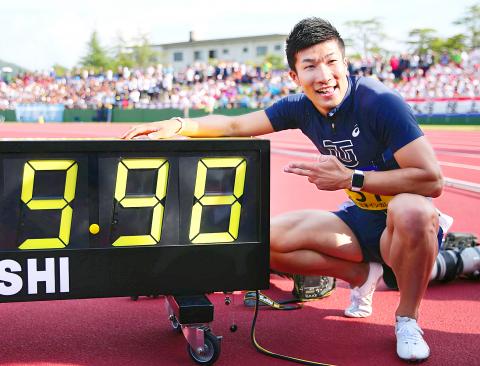 Japanese sprinter Yoshihide Kiryu poses with a display of his winning time in the 100m in Fukui, Japan, yesterday.
Photo: AP
Kiryu screamed with joy after crossing the line and pointed to a display clock showing his time.
"I'm thrilled to have done it in my last 100 race of the season," said Kiryu, according to the Kyodo news agency.
"I'd been stuck for four years and I managed to rewrite my own record at last," he said. "I'm on the starting block of the world now that I've run a nine."
Kiryu, who ran a wind-assisted 9.87 deconds in the 100m in 2015, had long competed with his domestic rivals, including Japanese teen sensation Abdul Hakim Sani Brown, to achieve the national feat.
Comments will be moderated. Keep comments relevant to the article. Remarks containing abusive and obscene language, personal attacks of any kind or promotion will be removed and the user banned. Final decision will be at the discretion of the Taipei Times.