NY Yankees win as Aoki pitches
'NOT ENTERTAINED': Astros manager A.J. Hinch said he sent the Japanese player on the mound to save his bullpen, but Aoki said he enjoyed the chance to fulfill a dream
Brett Gardner tied a career high with six RBIs and his seventh-inning grand slam helped New York to a 13-4 win over Houston, whose veteran Japanese outfielder Nori Aoki pitched for the first time in Major League Baseball.
The Yankees started off slow and trailed by two entering the sixth inning after arriving at their hotel in Houston about 6am following an almost three-hour rain delay before the start of their game against the Chicago White Sox on Thursday.
They finally broke through in that inning, hitting five singles and sending 10 batters to the plate to take a 6-3 lead.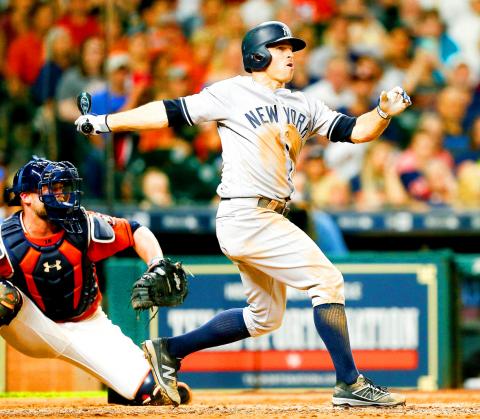 Brett Gardner of the New York Yankees watches the ball sail into the stands after a home run against the Houston Astros in Houston, Texas, on Friday.
Photo: AFP
Gardner, who finished a triple shy of the cycle, drove in the go-ahead run in that inning and connected off James Hoyt an inning later on his two-out, two-strike shot to make it 10-3.
Michael Pineda (8-4) yielded seven hits and three runs — two earned — in six innings for his first win since June 8.
Bryan Mitchell allowed two hits and one run in three innings for his first save.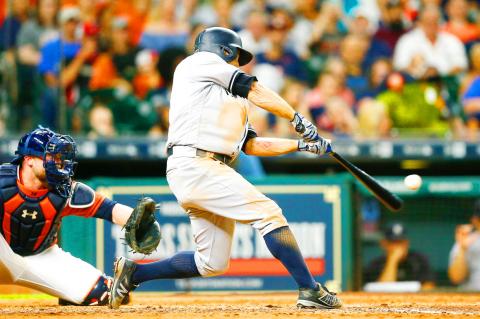 Brett Gardner of the New York Yankees hits a grand slam against the Houston Astros at Minute Maid Park in Houston, Texas, on Friday.
Photo: AFP
Michael Feliz (4-2) allowed four hits and three runs in a third of an inning for the loss.
Aoki made his first career pitching appearance in the ninth. The 35-year-old allowed one hit with two walks and three runs.
Astros manager A.J. Hinch said that he did not love sending Aoki out there, but he needed to save his bullpen.
"I'm probably the one guy in the building that didn't get entertainment out of it," Hinch said. "As a manager, you hate putting a guy in those positions."
Aoki, who said he pitched regularly in high school, was not bothered by the decision.
He said it was a "lifelong dream" to pitch in the majors.
In Toronto, Xander Bogaerts hit a tiebreaking single in the 11th inning as the Boston Red Sox beat the Toronto Blue Jays 7-4.
Hanley Ramirez doubled off Aaron Loup (2-2) to begin the 11th and moved to third on Jackie Bradley Jr's single.
One out later, Bogaerts singled through the drawn-in infield.
Deven Marrero had two hits and three RBIs for the American League East-leading Red Sox.
Bogaerts was held out of the starting lineup for the first time since April 21. He came on as a defensive replacement in the 10th.
Blaine Boyer (1-1) pitched two scoreless innings, while Craig Kimbrel finished for his 23rd save.
Taiwan's Lin Tzu-wei — playing at short stop for the Red Sox — had a quiet night with no hits from three at-bats.
Additional reporting by staff writer
Comments will be moderated. Keep comments relevant to the article. Remarks containing abusive and obscene language, personal attacks of any kind or promotion will be removed and the user banned. Final decision will be at the discretion of the Taipei Times.