Bourdais determined to return to Indy for season finale
Sebastien Bourdais was in one of the best race cars he had ever had, so fast that most of his competitors thought he would win the pole for the Indianapolis 500.
Instead, he crashed during qualifying at Indianapolis Motor Speedway last weekend, hitting the wall at 365kph. He fractured his pelvis, a hip and two ribs when his car exploded into pieces and spun through Turn 2 at Indianapolis Motor Speedway.
On Saturday, Bourdais vowed to be back in a car this season.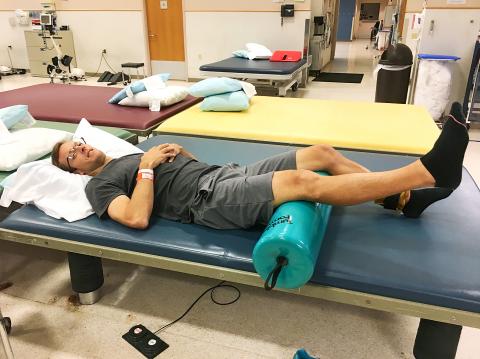 IndyCar driver Sebastien Bourdais does physical therapy on Saturday at the Rehabilitation Hospital of Indiana, Indianapolis.
Photo: AP
"I will be back at Sonoma," he said of the Sept. 17 season finale, "because I want to."
Bourdais allowed reporters to attend one of his physical therapy sessions at the Rehabilitation Hospital of Indiana, where he checked himself in after two surgeries earlier this week.
The 38-year-old Frenchman is already spending three-and-a-half-hours a day in therapy, performing weighted leg lifts and adduction pressure drills with a rubber ball, building his strength.
He used a wheelchair to get from his room to the facility gym only because the trip takes too long on crutches.
Like a typical race car driver, Bourdais complained his chair is too slow and pulls to the right.
"I need a better setup," he said, adding that he was determined not to use it yesterday, when he was to return to the scene of his crash to attend the Indianapolis 500.
"I am not showing up at the race track in a wheelchair," he said.
Watching as a spectator and seeing James Davison in his car was expected to be difficult. Bourdais was having a banner year.
He was part of the winning sports car team at the Rolex 24 at Daytona Beach in Florida, he captured the IndyCar opener at St Petersburg in Russia, and was driving a car he felt was capable of winning the 500.
Next month, he was planning to return to his hometown in France to defend his class title at the 24 Hours of Le Mans.
A four-time series champion who ranks sixth on IndyCar's career win list — second among active drivers behind Scott Dixon — Bourdais had never before been seriously injured in a race car. Three small wiggles on a flyer lap at Indianapolis last Saturday changed that.
"I'll tell you, it makes you feel very small, your clothes cut off and lying naked on a board," Bourdais said. "But I can only blame myself. Those things happen."
Bourdais moved to tiny Dale Coyne Racing this year, convinced he could help the team become a contender. He got Coyne to hire his old engineers, Craig Hampson and Olivier Boisson, who had been so instrumental in his success.
Hampson was part of 31 race victories and four consecutive Champ Car World Series championships, while Boisson won four races with Bourdais over the past three years.
The reunion has been wonderful for Bourdais and he felt badly that Hampson blamed himself and the setup on the car for his accident.
Bourdais instead shoulders the blame and said many of his injuries would have been prevented if the tub of his car had not collapsed.
"I've never had a car like that. I could do anything I wanted," he said. "I remember everything from the little wiggle in Turn 1, to the bigger wiggle in Turn 2, to the terminal wiggle, to hitting the wall with the pedal to the metal."
He was briefly unconscious and, when he came to, told the safety crew his pelvis was broken. It was a matter of hours before he was undergoing surgery.
Bourdais was discharged on Wednesday, but was not comfortable returning to his hotel room, where his wife would be responsible for him so soon after surgery. So he checked into the rehabilitation facility a short drive from the speedway and began the long, painful process of getting back in the race car.
Comments will be moderated. Keep comments relevant to the article. Remarks containing abusive and obscene language, personal attacks of any kind or promotion will be removed and the user banned. Final decision will be at the discretion of the Taipei Times.