Hopes high in Atlanta for stadium, despite delays
Several high-profile failures have plagued Atlanta's reputation in the US over the years: unpreparedness for ice and snow storms, a recent highway collapse and subsequent shutdown from a fire, and chronic transportation woes.
Now, the city's new US$1.5 billion stadium — touted as a state-of-the-art facility that can help transform downtown — is facing construction setbacks with its key feature, a retractable roof that is to open and close like a camera lens.
Stadium officials recently gave reporters a tour of the Mercedes-Benz Stadium.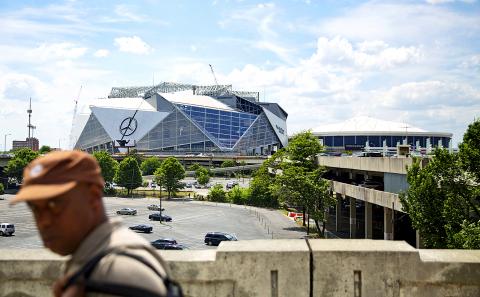 Cranes loom over the Mercedes-Benz Stadium in Atlanta, Georgia, on Wednesday.
Photo: AP
Even though it is behind schedule, officials and some residents hope the stadium can turn around Atlanta's history of public misfortunes in infrastructure.
It is to be home to the Atlanta Falcons and Atlanta United, the city's professional football and soccer teams. It is also to host SEC championship football games for the next 11 years along with the College Football Playoff National Championship next year and the Super Bowl in 2019.
The stadium was originally set to open in March, but that was pushed back three times: first to June 1, then July 30 and now early August.
Stadium general manager Scott Jenkins said that will be in time for the Falcons to host the Arizona Cardinals in the first pre-season game at home on Aug. 26.
The building is more than 90 percent done, Jenkins said.
The challenge with the retractable roof has been installing the eight triangular steel petals that would enable it to retract and open like a camera lens.
Watertight seals are being installed on the petals, then it is expected to take eight weeks to place fluorine-based plastic on them, a spokeswoman said.
Early next month, workers are to bring the petals together for proper alignment with the help of two gigantic crawler cranes.
Other features of the facility are to be giant video screens, the largest of which is the 360-degree, 5,853m2 "halo board" — named for its shape.
It is to sit high in the stadium, showing live game play, replays and images of players during breaks.
Work to build the halo is to continue through July.
The stadium is to adjust seating capacity for different events, with Falcons games accommodating 71,000 and the Super Bowl to seat 75,000, while the triangular, translucent walls spanning from the floor to almost the ceiling provide natural light inside the stadium and a view of Atlanta's skyline.
Comments will be moderated. Keep comments relevant to the article. Remarks containing abusive and obscene language, personal attacks of any kind or promotion will be removed and the user banned. Final decision will be at the discretion of the Taipei Times.