Lamigo Monkeys knock Lions into third place
The Lamigo Monkeys yesterday beat the Uni-President Lions by 5-2 at Taoyuan International Baseball Stadium, dropping the Lions into third place behind the resurgent Brothers Baseball Club after three straight losses.
Left-handed pitcher Darin Downs picked up his fourth win this season, scattering six hits and eight strikeouts to give Lamigo a 4-1 lead before he was taken out to rest in the seventh inning.
Second basemen Kuo Yen-wen and DH Lin Hung-yu smashed solo homers to help the Monkeys to victory for a three-game series sweep over the Lions, taking firm grip on first place.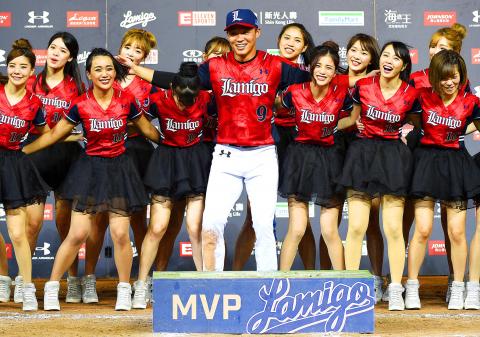 The Lamigo Monkeys' Wang Po-jung celebrates with the Lamigirls cheerleaders after winning the most valuable player award yesterday in their game against the Uni-President Lions at the Sinjhuang Baseball Stadium in Taipei.
Photo: Chen Chih-chu, Taipei Time
Closer Chen Yu-hsun slammed the Lions in the ninth frame, by striking out the side.
Free-spirited Chen has been outstanding through the campaign, with the league's best nine saves.
In earlier contests, the Monkeys pounded the Lions into submission with a 13-4 thrashing on Friday, and 8-3 on Saturday.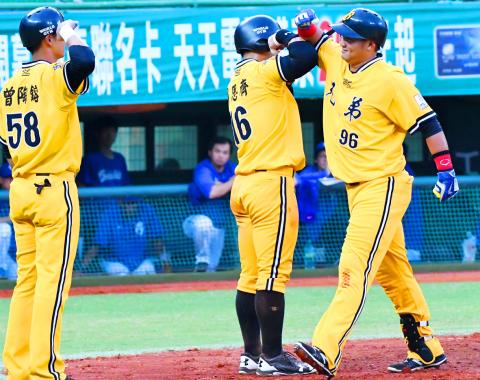 Brothers Baseball Club player Su Wei-ta, right, celebrates with a teammate yesterday after scoring a home run in the fourth inning of their game against Fubon Guardians at Chengching Lake Baseball Field in Kaohsiung.
Photo: Huang Chih-yuan, Taipei Times
The Lions began the series in second place, but have fallen to third place, behind the Elephants.
Yesterday's other matches saw the Elephants beat the Fubon Guardians 8-0 at Chengching Lake Baseball Field in Kaohsiung.
Starter Cheng Chi-hung gave up only two hits and no runs in six innings to chalk up his second win of the season and was supported with big hits from teammates, especially a three-run homer by first baseman Su Wei-ta.
The Elephants enjoyed a good week, seizing their fourth straight win, as they split a midweek two-game series with the Lamigo Monkeys, but stormed back to dust off the Guardians in three consecutive victories.
Outfielder Tseng Tao-jung set a CPBL record during when he hit five home runs in two straight games.
Tseng slammed a solo homer, then added a three-run shot late in Friday's game, to bring his tally to five dingers, after his three homer performance on Thursday.
Yesterday's results gave the Guardians their fifth-straight defeat, as the team continues to be plagued by pitching and fielding errors.
Comments will be moderated. Keep comments relevant to the article. Remarks containing abusive and obscene language, personal attacks of any kind or promotion will be removed and the user banned. Final decision will be at the discretion of the Taipei Times.