LaMarcus Aldridge steps up for Spurs
KING LEADS CAVS: LeBron James scored 35 points as Cleveland secured a 21-point victory over the Raptors, adding eight rebounds and contributing seven assists
LaMarcus Aldridge had been criticized through two games of their Western Conference second-round series against the Houston Rockets for not doing enough for his San Antonio Spurs.
On Friday night, with the Spurs without Tony Parker, he shook off his slow start to this series with a huge game that propelled them to a 103-92 victory and a 2-1 lead.
Aldridge and Kawhi Leonard scored 26 points apiece in San Antonio's first post-season game without Parker since 2001, which ended an NBA record of 221 straight playoff appearances for the Frenchman.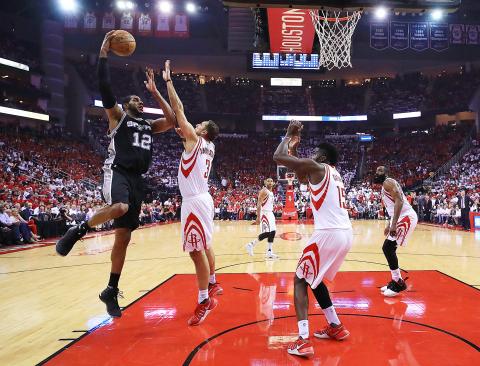 The San Antonio Spurs' LaMarcus Aldridge, left, drives against Ryan Anderson of the Houston Rockets during Game 3 of their NBA Western Conference second-round series at the Toyota Center in Houston, Texas, on Friday.
Photo: AFP
The 34-year-old was injured in the fourth quarter of Game 2.
"You can't replace Tony Parker. He's a Hall of Famer one day, but I think guys just came out with a sense of urgency and just played hard," Aldridge said.
Aldridge had managed just 19 points combined in the first two games, but stepped up in the wake of Parker's season-ending leg injury, scoring nine points in the fourth quarter to help the Spurs pull away.
The Cleveland Cavaliers' LeBron James looks for an opening during Game 3 of their NBA Eastern Conference second-round series against the Toronto Raptors at Air Canada Centre in Toronto on Friday.
Photo: AFP
"I do what the team needs," Aldridge said. "Tonight this was needed and I did it. So I'm always going to try to be aggressive out there and try to make things happen."
James Harden led the Rockets with 43 points after scoring just 13 in Game 2, but he had only five assists and complained about the officiating all night.
"We had several opportunities," Harden said. "As a unit we couldn't get it going consistently."
Coach Gregg Popovich started rookie Dejounte Murray in San Antonio's first game since Parker's quadricep injury, instead of moving Patty Mills into the starting lineup. Mills had 15 points in 30 minutes and Murray scored just two points in 15 minutes.
"We started off pretty slow, but I think we did good," said Leonard, who had 10 rebounds and seven assists. "We got a win, but definitely still have to make some adjustments."
The Spurs led by six when Aldridge scored all of their points in a 7-2 run to make it 85-74 with about five minutes left.
"Aldridge sooner or later is going to go off because he's an All-Star," Houston coach Mike D'Antoni said. "Nothing they did should have bothered us. We just didn't play well."
Houston scored six straight points soon after that to get within eight, but Danny Green made two three-pointers in less than a minute to push the lead to 94-82 with less than three minutes remaining.
San Antonio were up by six entering the fourth quarter and had a five-point lead with about 7 minutes, 30 seconds remaining when Harden was given a technical foul for complaining after not getting a call. Leonard made the free throw to make it 78-72.
The Spurs led by four at halftime and pushed the lead to 52-43 early in the third quarter. San Antonio were up by 10 soon after that before the Rockets used a 10-1 spurt, with all the points from Harden, to cut it to 56-55 midway through the quarter.
Jonathon Simmons hit a three-pointer at the buzzer to leave San Antonio ahead 72-66 as they went into the fourth quarter.
Harden picked up his third foul with 5 minutes, 18 seconds left in the first quarter when he ran into Pau Gasol and crashed to the court while attempting a three-pointer.
Harden was outraged at the call, flipping over on his stomach on the court and kicking his legs in disbelief.
He remained upset after a timeout, approaching a referee and arguing the call, before calming down.
Elsewhere, the Cavaliers defeated the Raptors 115, 94, with LeBron James scoring 35 points, adding eight rebounds and contributing seven assists as Cleveland took a commanding 3-0 lead in their Eastern Conference second-round series.
The Cavaliers can complete a sweep of the series in Game 4 today in Toronto.
Comments will be moderated. Keep comments relevant to the article. Remarks containing abusive and obscene language, personal attacks of any kind or promotion will be removed and the user banned. Final decision will be at the discretion of the Taipei Times.