Taipower consolidate No. 1 spot
Kaohsiung-based Taipower showed they are the class act of Taiwan's top soccer league, defeating the Royal Blues 4-0 yesterday to continue their dominance at the top of the table, while Ming Chuan University put home-field advantage to full use in a 7-1 thrashing of Tainan City in the second match of the day.
The Royal Blues, or the "expatriate" team, had their fourth straight loss since a 0-0 draw against Fu Jen University on April 15.
They are in sixth place, with three wins, two draws and six losses after being in a share of second place earlier in the season.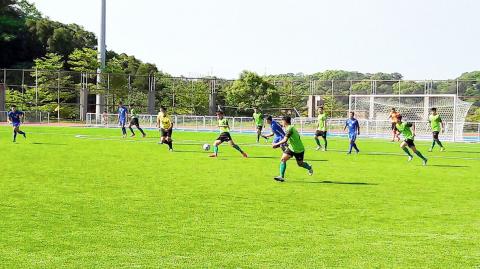 Tainan City control the ball during their game against Minchuan University in Taoyuan yesterday.
Photo courtesy of the CTFA
Taipower forward Chiu Yi-cheng had an outstanding day, grabbing a brace with goals either side of halftime and assisting on a third goal as his side earned a solid lead in the inaugural season of the Taiwan Premier Football League.
Chiu said after the game that his secret was that he was back on his old stomping ground, as he played for Ming Chuan University as an undergraduate.
Coming back from a knee injury last year, Chiu said he trained diligently to find his scoring touch.
"I had good luck in today's game with the two goals, but actually, there were some chances that I missed," he said. "It feels good to be back at my alma mater. I always do well here on my home ground."
NEW SURFACE
"It used to be a grass pitch, but they have put in artificial turf now," he said.
"Although it is a bit soft to step on, it is quite level and good for players to run on," he said.
"In the past with the grass surface, there were bad patches and holes, because the softball team and other sports also used the field," Chiu said. "That was a big problem for us."
After yesterday's results, Taipower had an 8-3-0 record for 27 points, while Taipei-based Tatung were in second with a 7-1-2 record for 22 points and National Sports Training Center (NSTC) were in third with a 6-2-2 record for 20 points.
OWN-GOALS
In the second match, Tainan fell behind by four goals in the first half, with two being own-goals, while Ming Chuan University enjoyed home support and netted three more goals in the second half.
Ming Chuan forward Lo Chih-hsien put a cross into the box that Tainan defender Tsai Hsien-tang knocked into his own net in the eighth minute.
PENALTY
Forward Cheng Chun-hsien slotted home to send Ming Chuan 2-0 up a few minutes later.
Lo scored from a penalty in the 38th minute, before Tainan fumbled again five minutes later when defender Chou Hsueh-kuang's attempted clearance from in front of goal deflected past his own goalkeeper to make the lead 4-0.
The only bright spot for Tainan was a long-range goal late in the game from midfielder Chen Sung-nan to prevent the shutout.
In the remainder of the weekend's games to be played today, Fu Jen University-Hang Yuan take on NSTC at 1:30pm, followed by Tatung against Taiwan Sports University (NTUPES) at 3:30pm, with both games to be played at Ming Chuan University's field in Taoyuan.
PREVIOUS GAMES
In results from last weekend, Taipower blanked Fu Jen University 6-0, while NSTC edged the Royal Blues 1-0.
The other games saw Tatung overwhelm Tainan 10-0, while NTUPES shut out Ming Chuan Universtiy 3-0.
Comments will be moderated. Keep comments relevant to the article. Remarks containing abusive and obscene language, personal attacks of any kind or promotion will be removed and the user banned. Final decision will be at the discretion of the Taipei Times.