NBA Playoffs: Paul dazzles as Clippers rally to beat Jazz 111-106
'MUST-WIN': Utah's George Hill said that victory in the next game is imperative to avoid falling behind 3-1 as the best-of-seven series moves back to Los Angeles
Los Angeles Clippers coach Doc Rivers on Friday night sounded in awe of his point guard after watching Chris Paul beat the Utah Jazz with a fantastic fourth-quarter performance.
Paul scored a season-high 34 points as the Los Angeles Clippers rallied for a 111-106 victory to take a 2-1 lead in their first-round NBA playoff series.
"He has an amazing will," Rivers said. "He's just a tough guy. He's stubborn in a very, very positive way. All the great ones have that in them. They're stubborn like they aren't going to lose ... and that's how he felt. And you could feel that. His energy and that kind of rubbed off on everybody on the team."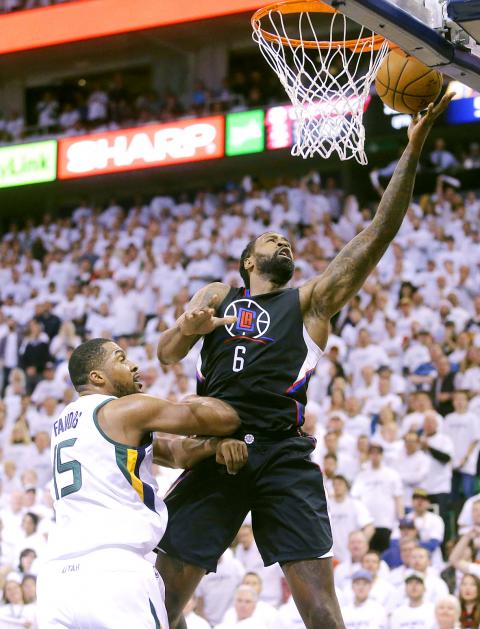 The Los Angeles Clippers' DeAndre Jordan, right, lays the ball up past the Utah Jazz's Derrick Favors in the first half of Game 3 of their NBA first-round playoff series in Salt Lake City, Utah, on Friday.
Photo: AP
The Jazz led most of the game before Paul took over in the fourth quarter and powered a 15-0 run that gave the Clippers a 103-96 lead with 2 minutes, 9 seconds remaining.
Utah never led again.
The Clippers overcame a spectacular night from Gordon Hayward, who scored a career-high 40 points.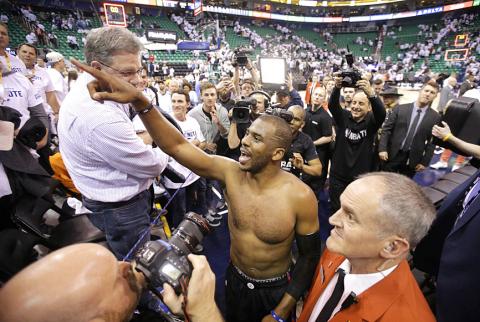 The Los Angeles Clippers' Chris Paul, center, celebrates after Game 3 of their NBA first-round playoff series against the Utah Jazz in Salt Lake City, Utah, on Friday.
Photo: AP
However, Paul simply dominated the fourth quarter, scoring nine straight himself during the run and getting wherever he wanted on the floor. He iced the game with a pair of free throws with 5.3 seconds remaining and finished with seven rebounds and 10 assists.
"I'm just always looking at the scoreboard trying to manage the game," Paul said. "I was just trying to pick my spots. That's a good team over there. They stick to their principles."
"Me and [DeAndre Jordan] on the ball screens just tried to keep getting creative and tried to figure out ways to make plays," he added.
Jordan had 17 points and 13 rebounds for the Clippers, who played without the injured Blake Griffin in the second half. Luc Mbah a Moute scored a career playoff-high 15 points.
"That's a difficult cover," Jazz coach Quin Snyder said of Paul. "We put different guys on him and covered the pick-and-roll a few different ways. That's really all you can do is maybe try to give him some different looks, because he's usually going to figure out if you're doing one thing — as you saw during the third quarter."
"You just keep trying to adjust as best as you can and compete. The hard thing for us is when we did get some stops, they got second shots," he added.
Joe Johnson tried to will the Jazz to victory in the fourth quarter after Hayward slowed down, finishing with 15 points off the bench.
George Hill scored 26 thanks to a 13-point third quarter, then said the Jazz needed to win the next game.
"Yes, it's a must-win situation for us," he said. "You never want to go down 3-1, especially going back to their home court."
Griffin left the game with 3 minutes, 18 seconds remaining in the second quarter and did not return after landing awkwardly following a transition layup. The Clippers ruled it a bruised right big toe.
The five-time All-Star had 11 points, six rebounds and two assists in 18 minutes.
Griffin had X-rays at the arena that were negative and the Clippers planned to re-evaluate him later on Friday night.
"One of the biggest adjustments is we probably won't be able to play through the post so much," Paul said. "He's such a dynamic player. We go to him in the post and we cut and move off him... He's our other assist guy."
"Just his leadership, it's just a different feeling when he's on the court," he added.
Comments will be moderated. Keep comments relevant to the article. Remarks containing abusive and obscene language, personal attacks of any kind or promotion will be removed and the user banned. Final decision will be at the discretion of the Taipei Times.