'Adopt-a-Lion' effort touted
An appeal for New Zealanders to "adopt-a-Lion" by billeting traveling fans during this year's blockbuster British and Irish Lions tour has prompted an "overwhelming" response, organizers said yesterday.
More than 20,000 Lions supporters are expected to travel south to see the Home Nations' combined team take on world champions the All Blacks for the first time since 2005.
However, accommodation in the South Pacific nation has proved tight, particularly in the Test venues of Auckland and Wellington, with reports of exorbitant fees being charged for rooms.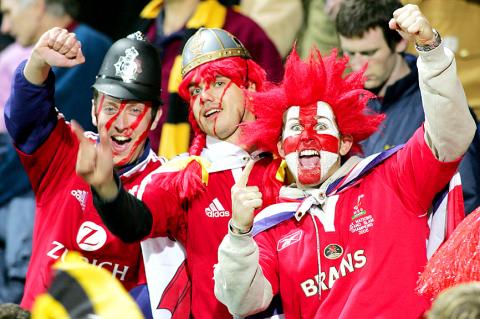 British and Irish Lions fans celebrate a win against Taranaki in New Plymouth, New Zealand, on June 8, 2005.
Photo: AFP
Worried that die-hard Lions fans were being priced out of a dream experience, New Zealander Adam Gilshnan launched a Facebook appeal for his fellow Kiwis to help out.
The "Unofficial: British & Irish Lions 2017 Tour To New Zealand" page called for offers of free rooms or even a spot for traveling fans to park their campervans.
"We Kiwis like to think we're famous for our hospitality, so we thought we'd put it out there," Gilshnan told reporters. "It's just gone crazy and taken on a life of it's own. It's been a bit overwhelming really, I'm thrilled."
Some New Zealand respondents have offered to host up to six fans, while Lions supporters have taken to Facebook to warmly praise the initiative.
Gilshnan, 44, was inspired by his experience hosting Welsh fans during the previous Lions tour to New Zealand 12 years ago.
They returned the favor during a subsequent All Blacks tour to Britain and Gilshnan said life-long friendships were formed.
"That's what we'd like to see here," he said. "Kiwis who are billeting fans, even if they're not going to any games themselves, can get to know the fans, hear their stories and feel part of the tour."
The June 3 to July 8 tour features 10 matches covering the length of New Zealand, including three Tests.
Gilshnan said both sets of supporters enjoyed a close relationship and it promised to be "rugby nirvana."
"There's no segregation like other sports, we'll give each other a bit of stick during the match, but shake hands at the end of it," he said.
Comments will be moderated. Keep comments relevant to the article. Remarks containing abusive and obscene language, personal attacks of any kind or promotion will be removed and the user banned. Final decision will be at the discretion of the Taipei Times.