Stormers get fright from 13-man Argentine Jaguares
The South African Western Stormers battled to a 32-25 Super Rugby victory on Saturday over the Argentine Jaguares reduced to 13 men for part of the second half.
Outstanding loose forward Pablo Matera and Matias Moroni were yellow carded within 1 minute just past the hour mark at Newlands Stadium in Cape Town, South Africa.
Stormers were awarded a penalty try soon after for a nine-point lead and the expectations were that the floodgates would open.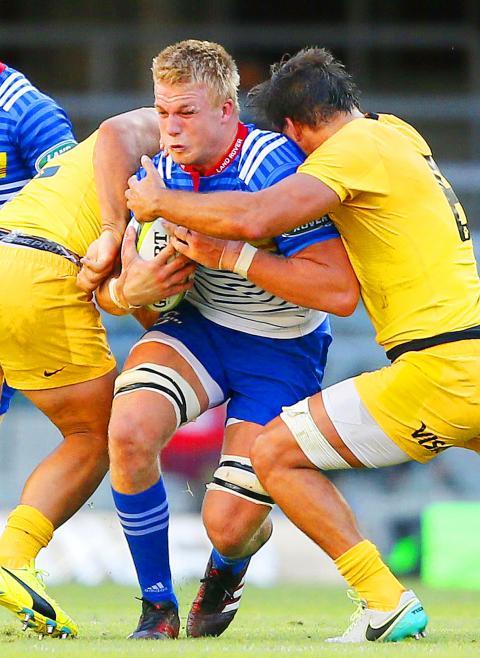 The Stormers' Pieter-Steph du Toit, center, is tackled by Jaguares captain Agustin Creevy, left, and Pablo Matera, during their Super Rugby match on Saturday at Newlands Stadium in Cape Town, South Africa.
Photo: EPA
However, the Buenos Aires-based side responded with a brilliant try by Santiago Cordero which replacement Santiago Gonzalez Iglesias converted.
Seconds before the two sin-binned Argentines returned, SP Marais scored a try for the Cape Town outfit to complete the scoring.
"The Jaguares shocked us with their physicality," said Stormers try scorer and man of the match E.W. Viljoen. "We were very happy to hear the final whistle sound. It was a really tough match for us."
After a poor debut season, the Jaguares are looking more polished this year, despite lacking injured stars Martin Landajo and Juan Martin Hernandez.
Star Nicolas Sanchez returned to flyhalf and contributed eight points after missing the opening-round win over the Southern Kings in Port Elizabeth last weekend.
"The way the Jaguares forwards carried the ball was outstanding," SuperSport TV analyst and former Springboks coach Nick Mallett said.
After receiving rave reviews for their South African derby win over the Northern Bulls last weekend, the Stormers looked much less impressive.
Viljoen, Jano Vermaak and Marais scored tries for the Stormers, who were also awarded a seven-point penalty try.
Jean-Luc du Plessis, a son of former Springbok star Carel, kicked two conversions and two penalties.
Santiago Cordero scored two tries and skipper Agustin Creevy one for the Jaguares, while Sanchez kicked a conversion and two penalties and Iglesias a conversion.
Comments will be moderated. Keep comments relevant to the article. Remarks containing abusive and obscene language, personal attacks of any kind or promotion will be removed and the user banned. Final decision will be at the discretion of the Taipei Times.