Ovechkin passes 1,000 points
'PRETTY AMAZING': It took the Russian just 35 seconds to complete the milestone in front of his family in the Capitals' 5-2 victory over the Penguins
Nothing about Alex Ovechkin the showman surprises the Washington Capitals anymore.
That Ovechkin carried them on his back with two goals as they beat the Pittsburgh Penguins 5-2 on Wednesday for their seventh consecutive victory was hardly a shock.
With the thought of recording his 1,000th point in his mind before the game, Ovechkin scored a goal 35 seconds in to reach that milestone and made it 1,001 with a power-play goal later to help snap the Penguins' winning streak at five.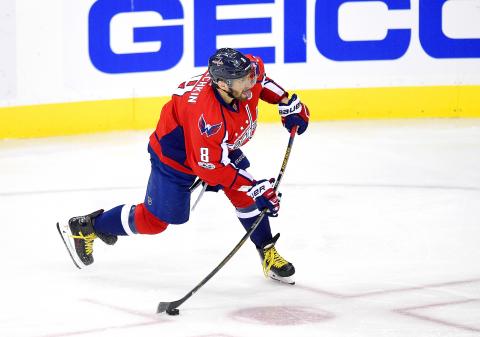 Alex Ovechkin of the Washington Capitals shoots against the Pittsburgh Penguins in the second period of their NHL game in Washington on Wednesday.
Photo: AP
"Every night he plays hard, so nothing new," said longtime teammate Nicklas Backstrom, who assisted on each of Ovechkin's goals and had one of his own. "The only thing that was a little surprising was maybe 35 seconds. That's all it took, but that's typical [of] a guy like him, though."
Ovechkin, with his usual flair for the dramatic, scored on a pretty toe-drag and wrist-shot on the game's first shift and then from his usual spot on the power play in the second period. He is the only player to score 20 in every season since 2005-2006, his rookie year.
Wanting to reach the 1,000-point plateau in front of his wife, parents and brother, Ovechkin got it done fast and called it a "pretty special moment, pretty amazing moment."
"That was a great start for him and for us," Capitals coach Barry Trotz said. "If he's going to score, he sort of had that look in his eye once he touched the puck that something good was going to happen."
Beating the Penguins to extend their season-best winning streak to seven on the strength of goals by Ovechkin, Backstrom, Justin Williams, an empty-netter by Lars Eller and 30 saves from Braden Holtby just kept the good vibes going for a team that is now just one point back of Columbus for first place in the Metropolitan Division.
The Capitals trailed the Blue Jackets by nine points on Dec. 28 before an eight-game point streak that has vaulted them over the Penguins and the New York Rangers.
"I think you can see how we play five-on-five, obviously penalty kill do an unbelievable job and Holts [Holtby] unstoppable right now," Ovechkin said. "We're winning, but I hope the best hockey's going to be a little bit later."
Washington and Pittsburgh each went into the game on a roll, but the Penguins could not crack Holtby until it was too late.
Power-play goals by Evgeni Malkin and Patric Hornqvist made things interesting, but veteran Matt Cullen hit the crossbar on a short-handed breakaway in the third period. Backstrom scored seconds later.
"It was probably the difference in the game," Penguins coach Mike Sullivan said. "We were climbing back in it. We had momentum, we had energy. Our power play gave us a boost in the third. We were right there. That was a big turning point for me."
With a hand in each of the Russian superstar's goals, Backstrom has assisted on 204 of Ovechkin's 448 goals since the Swedish center entered the league in 2007-2008. That just seemed right.
"You can attach Backy's name to so many of Ovi's goals, it was only fitting," Trotz said.
Comments will be moderated. Keep comments relevant to the article. Remarks containing abusive and obscene language, personal attacks of any kind or promotion will be removed and the user banned. Final decision will be at the discretion of the Taipei Times.