Towns helps Timberwolves defeat Mavericks 101-92
Karl-Anthony Towns dominated at the start and Ricky Rubio took over in the end, adding up to a big win for the Minnesota Timberwolves.
Towns had 34 points and 11 rebounds, while Rubio added 13 points and a season-high 15 assists as the Timberwolves ended a four-game losing streak with a 101-92 victory over the Dallas Mavericks on Monday night.
"The team was struggling lately and everybody had to do a better job in the fourth quarter, and I think we did today," Rubio said. "We've been doing a pretty good job for three quarters all season, but the fourth quarter is just different. It's when you win games."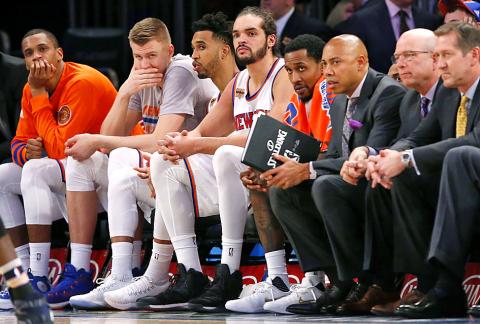 The New York Knicks bench watch their game against the New Orleans Pelicans at Madison Square Garden in New York on Monday.
Photo: AP
Harrison Barnes scored 30 points for the Mavericks and Dirk Nowitzki had 26, including five three-pointers.
"We were never able to control Towns, obviously," Nowitzki said. "He got too deep some; just never really had an answer for him."
Towns scored Minnesota's first seven points and 16 in total in the first seven minutes. He finished with 20 in the period as the Timberwolves took a 33-14 lead after one quarter.
"I guess it was my lucky day," Towns said. "I just found good ways to find ways that they couldn't double-team me in spots where it was very difficult to double-team me."
Rubio scored nine points in the fourth quarter, including consecutive baskets during an 8-0 run that gave the Timberwolves some breathing room after Dallas had whittled a 21-point lead to 81-77.
His three free throws put the Wolves up by 14 with 2 minutes, 8 seconds to play, effectively sealing the game.
Elsewhere, New York point guard Derrick Rose was a mysterious no-show at Madison Square Garden, and that was just one of the Knicks' problems in a 110-96 defeat to the New Orleans Pelicans.
The Knicks started Brandon Jennings at point guard instead of Rose, the team tweeting only a terse announcement that "Derrick Rose is not with the team."
Coach Jeff Hornacek had given no indication of Rose's absence in his pre-game news conference. After the game he tried to deflect questions about the player.
"Right now we don't have enough information to really give you anything," Hornacek said. "So that's just going to have to wait until we hear something from Derrick himself."
Hornacek refused to be drawn on reports that team staff had been unable to contact Rose.
"I'm not going to comment on any of that stuff," he said. "We expect him back, sure. It's just a matter of time."
"We want to respect whatever he's going through, and we're just not going to comment on it," Hornacek said.
Teammate Joakim Noah said he had been in touch with Rose after the game, but he shed no real light on Rose's absence, later reported by ESPN to be due to a family matter.
"I don't really want to talk too much about it, because I don't know what the situation is," Noah said. "I'm just happy that everything is OK with him."
Rose, 28, the 2011 NBA Most Valuable Player with the Chicago Bulls, has been effective in his first season with the Knicks.
He averaged 17.3 points in 33 games, missing a few earlier this season with back spasms.
In Rose's absence, the Knicks lost for the eighth time in nine games.
Star forward Carmelo Anthony was ejected during a third-quarter time-out, drawing two technical fouls for arguing over officiating.
Shortly afterward, Knicks reserve Kyle O'Quinn was ejected for a hard foul that sent Pelicans star Anthony Davis flying into courtside seats along the baseline.
Comments will be moderated. Keep comments relevant to the article. Remarks containing abusive and obscene language, personal attacks of any kind or promotion will be removed and the user banned. Final decision will be at the discretion of the Taipei Times.