Conte focused on title, not records
CHERRIES CHASTENED: Chelsea's 12th straight league victory was achieved without Diego Costa and N'Golo Kante, sending a message to their rivals in the title race
Antonio Conte insisted his focus is on the English Premier League title and not seeing his Chelsea side set a new record of successive league victories.
The 3-0 defeat of AFC Bournemouth on Monday set a new club record of 12 straight league wins, one short of Arsenal's single-season mark from 14 years ago.
Victory over Stoke City at Stamford Bridge at the weekend would set up the possibility of Conte's side breaking the record at Tottenham Hotspur.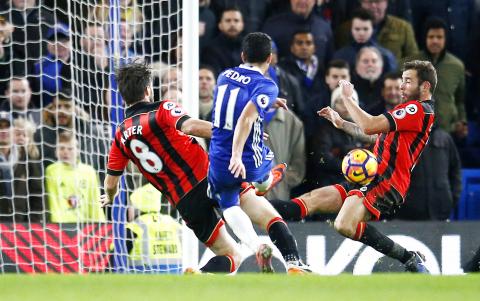 Chelsea's Pedro, center, scores his side's third goal against AFC Bournemouth in their English Premier League match at Stamford Bridge in London on Monday.
Photo: Reuters
Conte, though, says the only thing that concerns him is the impact on the table that shows Chelsea clear in top spot.
"If you ask me I hope to continue winning until the end of the season, but, for sure, it is not easy," Conte said. "I am pleased to see my players with great concentration and focus, with great will to fight and continue in this way. To win 12 games in a row is not easy in this league. It's a fantastic run, but it's important to continue that now."
"For me, it's important only for the table," he said. "With these 12 wins in a row we took 36 points and our table position is fantastic now. It's important only for this. I always thought that the record is not important if at the end you don't reach something important in your championship."
Pedro set Chelsea on course for victory with a 24th-minute opener, before Eden Hazard added the second from the penalty spot four minutes into the second half. Pedro added the third in stoppage-time.
The victory was achieved without suspended duo Diego Costa and N'Golo Kante, and Conte believes that only increased the scale of his side's achievement and would be noted by their main rivals.
"I think today we sent a good message," Conte said. "In general because I think that a lot of people waited to see if, without two really important players, Costa and Kante, we could lose points in this game. It didn't happen. I am pleased for this, because I can count on all my players in the squad. I try in every game to make the best decision for the team without looking at the faces."
Conte opted to employ Hazard as a central striker, forcing 23-year-old Belgium international forward Michy Batshuayi to continue his wait for a first league start since his £33 million (US$40.5 million) arrival from Olympique de Marseille.
"After the Crystal Palace game I said we had a week to work to find the right solution, to play for the first time without Diego, without Kante," Conte said. "After a week of work, I decide to choose this type of solution, with Eden, Pedro and Willian. I'm pleased for the performance of these players. I think that Michy is a really good player, but a young player, he is trying to adapt to this league. I try to make the best decision for the team, but I am sure that Michy could have the possibility to show his talent in the future."
Bournemouth manager Eddie Howe said the defeat had taught his side a valuable lesson.
"When you have Hazard, Pedro and Willian counterattacking with such pace it's difficult," Howe said. "I think that was probably the thing where we fell short, on the ball we gave them too many times to get into those situations by not being tight enough or good enough on the ball in those situations. That's something we take away from this game."
Comments will be moderated. Keep comments relevant to the article. Remarks containing abusive and obscene language, personal attacks of any kind or promotion will be removed and the user banned. Final decision will be at the discretion of the Taipei Times.