RIO OLYMPICS: Rio officials race against the clock to drain, fill pool
Olympic officials were working through the night to drain green-tinged water out of a pool at the troubled Maria Lenk Aquatics Centre and hoping they can pump in nearly 3.8 million liters of clean water for synchronized swimming.
There was not much room for error at a venue that has already become an Olympic laughingstock.
The whole process was supposed to be finished just four hours before the next event yesterday.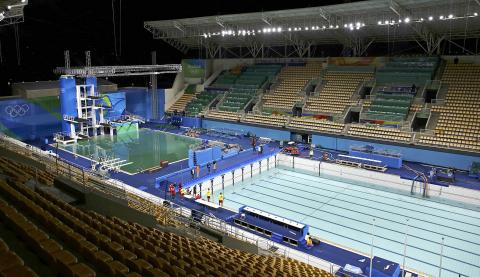 Technicians and lifeguards drain water from a pool before it is to be refilled with clean water prior to Olympic synchronized swimming events in Rio de Janeiro yesterday.
Photo: Reuters
Mario Andrada, a spokesman for Rio 2016, said the "radical measure" was necessary to ensure clear water for both judges and competitors during synchronized swimming, an event that requires swimmers to spend much of their time underwater.
He said the kale-colored water posed no risk to the health of the athletes.
An adjacent, smaller pool is to continue to be used for the diving competition, even though it remains murky.
US diver Abby Johnston has dubbed it "the swamp."
"Of course it is an embarrassment, because we are hosting the Olympic Games," Andrada said. "It should be light blue, transparent. We could have done better in fixing it quickly. We learned a painful lesson the hard way."
What if this solution does not work?
Officials had a backup plan, but would not disclose it. They could possibly move synchronized swimming to the 15,000-seat Olympic Aquatics Stadium, but that would require a major juggling of the schedule with water polo.
While the women's 3m springboard semi-finals were held at the diving end of the facility on Saturday, the bigger pool was slowly being drained. It had already dropped several centimeters as officials scurried around the deck, checking the water level and hauling out pumps and hoses that were to be used for the transfer.
Rio 2016 director of venue management Gustavo Nascimento said the entire operation would take 10 hours — six to drain the dirty water out of the competition pool and four to bring in clean water using the pumps and hoses.
He said it should be completed by 7am yesterday, with the scheduled start of the duet free preliminary scheduled for 11am.
"That's going to be an impressive feat, if they can pull it off," US diver Kassidy Cook said.
The larger pool had been used for water polo preliminary games. That sport was already scheduled to shift its remaining games to the Olympic Aquatics Stadium after the final session of swimming on Saturday night.
The water in the diving well turned a dark shade of green on Tuesday last week, and the larger pool at Maria Lenk began to turn the same color the following day.
While both pools seem to be improving a bit, Nascimento said there was not enough time to complete the cleaning process by yesterday.
He blamed a contractor for mistakenly dumping hydrogen peroxide into the pool late last week, which caused an adverse reaction when it mixed with chlorine.
The dirty water is to be disposed of using the city's sewage system, which has already come under intense scrutiny for dumping untreated waste into waters that are being used for rowing, canoeing, sailing, triathlon and open water swimming.
There are two warm-up pools at Maria Lenk, and neither was affected by the issues inside the arena. The one used by water polo teams is to be drained, since it will not be needed after Saturday, while the synchronized swimmers will continue to have use of their practice pool.
Some divers have said the green water actually helps them during competition by giving them a contrast with the blue sky when they are spinning through the air.
Others had a different view.
"Today was pretty gross," Australia's Maddison Keeney said after Saturday's competition. "You're standing on the stairs and you can't see your feet, one and half meters down. When you're standing up there it's a bit off-putting. I've never had a pool like this ever before. I just try to close my eyes and close my mouth. Hopefully I am going up and not down."
Andrada said Rio officials had been able to solve a myriad of issues plaguing the Games, but conceded they were out of short-term options when it came to the green water.
A day before, he attempted to explain trouble fixing the water by declaring that "chemistry is not an exact science."
"This is probably the only problem we were unable to solve quickly," he said. "The embarrassment won't last forever."
Comments will be moderated. Keep comments relevant to the article. Remarks containing abusive and obscene language, personal attacks of any kind or promotion will be removed and the user banned. Final decision will be at the discretion of the Taipei Times.