Djokovic and Halep lift Rogers Cup trophies
Novak Djokovic paused after accepting the Rogers Cup trophy for the fourth time, scanned the stands on Sunday at York University's Aviva Centre and asked everyone in the crowd to hug the person beside them.
A small chuckle circulated the capacity crowd and then Djokovic said he would lead by example, turning to public announcer Ken Crosina and wrapping his arms around him. Fans laughed and followed suit.
"It was a really wonderful moment," Djokovic said. "I did feel that it was just the right moment for me to ask politely the crowd to do that, because in the end of the day we are all here for the same thing. We are all here to connect through tennis, through passion for the sport. It's nice that we got to sense and feel that kind of energy around the stadium."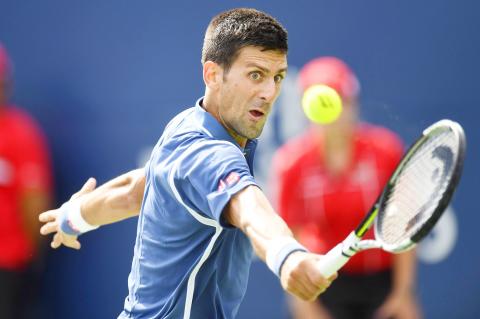 Serbia's Novak Djokovic returns to Kei Nishikori of Japan in the Rogers Cup men's singles final in Toronto on Sunday.
Photo: AP
The top-ranked Serb beat third seed Kei Nishikori of Japan 6-3, 7-5 after a short rain delay. Djokovic also won the hard-court event that rotates between Toronto and Montreal in 2007, 2011 and 2012. Ivan Lendl holds the tournament record with six titles.
"After Grand Slams, these are the biggest events we have in [the] sport of tennis," Djokovic said. "Naturally, I'm going to be very disciplined, committed and focused to do well."
Djokovic has won his past nine matches against Nishikori and leads the series 10-2.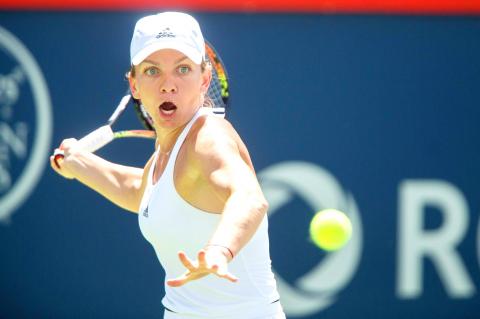 Romania's Simona Halep returns to Madison Keys of the US in the Rogers Cup women's singles final in Montreal on Sunday.
Photo: AFP
"I had too many unforced errors especially during important points," Nishikori said. "He was returning really well today, I think. I was hitting some good first serves, but he was making returns in deep."
In April in their previous match, Djokovic won the Key Biscayne final. Nishikori won his fourth straight Memphis title in February for his 11th ATP Tour victory.
In the women's singles final in Montreal, Simona Halep beat a mistake-prone Madison Keys 7-6 (7/2), 6-3 to claim her 14th WTA Tour career singles crown.
Romanian world No. 5 Halep has now won 23 of her past 26 matches, a stretch that has included lifting the titles in Madrid and Bucharest.
"It was not my best tennis because I couldn't play my best tennis," Halep said. "I cannot hit stronger than her because she's very strong. I tried just to keep the ball away from her and to make her run. I think I did it pretty well and she missed shots. It was really tough for me to hit winners today."
Halep had some unfinished business to take care of at the tournament after reaching the final for the second straight year. She was unable to close out the deal last year when she became ill in the third set of the final, handing the title to unseeded Belinda Bencic.
She claimed the title on a Keys error when the American blasted a forehand into the net on championship point.
Comments will be moderated. Keep comments relevant to the article. Remarks containing abusive and obscene language, personal attacks of any kind or promotion will be removed and the user banned. Final decision will be at the discretion of the Taipei Times.