Taiwan beaten to second in Sinjhuang
YOUNGSTERS EIGHTH: Taiwan B placed eighth at the 38th William Jones Cup after losing to the top team, Philippines-Mighty Sports, who won every game they played
South Korea outplayed Taiwan A for a 67-57 win to grab second place in the last game of 38th William Jones Cup last night, while the junior Taiwan side were outclassed by the top side.
The Taiwan A result gave South Korea a 6-2 record, while the host's top team dropped to fourth with a 5-3 record, the same as Iran.
Fans packed the Sinjhuang Gymnasium in New Taipei City for the fourth game of the day, but saw South Korea take a 32-26 lead at halftime.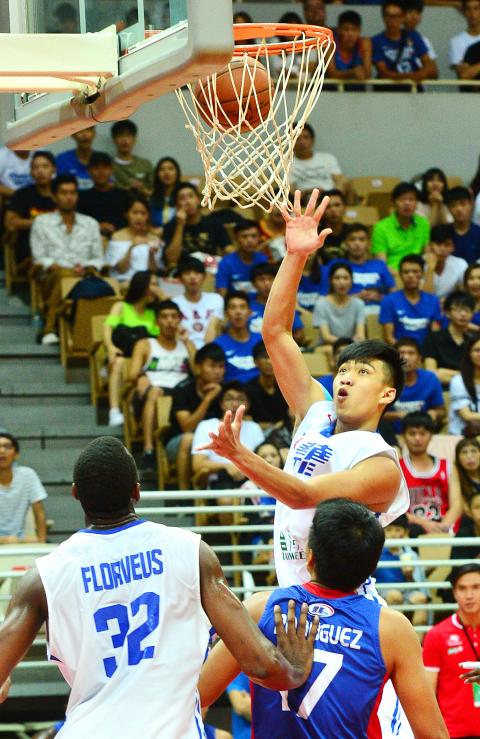 Taiwan B's Huang Hung-han scores against Philippines-Mighty Sports as teammate John Florveus looks on during their William Jones Cup game at the Sinjhuang Gymnasium in New Taipei City yesterday.
Photo: Wang Yi-sung, Taipei Times
Taiwan battled back and came within three points at one stage in the third quarter.
However, the visitors made the most of their field goals and ran end-to-end in fast breaks to maintain a double-digit lead throughout the fourth to claim a hard-earned win.
"The South Koreans deserved this win; all credit to their good teamwork," Taiwan A head coach Yan Jia-hua said in a post-game interview. "They got the better of us with their quick pace and took their scoring chances well. We made more mistakes and our shooting was not up to par in this game."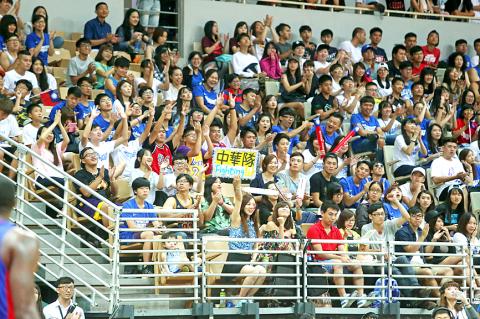 A woman holds a sign in support of Taiwan's teams at the Sinjhuang Gymnasium in New Taipei City yesterday.
Photo: CNA
"Some of our younger players got agitated and nervous when trailing," Yan said. "That made them more error-prone."
"I hope they can gain good experience from this international tournament and make improvements from it," he said.
Iran, winners last year, took third after rolling past India 71-56 in the first game.
Edging ahead by only one point, 32-31, at halftime, Iran's offense opened up their aerial attack and widened the lead down the stretch.
Shooting guard Behnam Yakhchali and center Rouzbeh Arghavan took charge in the second half.
Yakhchali ended up with 15 points and six rebounds, while Arghavan had 10 points and nine rebounds.
Two other Iran players had double-digit games.
Accuracy from outside tipped the advantage to Iran, as they made 10 three-pointers.
Overall, Iran shot 60 percent for field goals, compared with 46 percent for India.
India captain Amritpal Singh top scored among both squads with 22 points and added nine rebounds for a fine display, but his team still fell to their seventh defeat, finishing last with a 1-7 record.
US-Sacramento State (sixth) pounded Japan (fifth) 71-51 in the second afternoon encounter.
That outcome left both sides, along with Egypt (seventh), with 3-5 records.
Starting forward Justin Strings had a breakout game for the US-based side, posting a game-high 23 points and grabbing 10 rebounds.
Japan were only behind by six points at 23-29 at the end of the first half, but the bigger and more physical US players solidified their defense and made forays into the lane to pull away in the second half for a 20-point margin of victory.
Japan forward Akanobu Nishikawa made three of five three-pointers and was top scorer for his team's with 14 points.
Taiwanese teenager Jeff Wu, who is attending California State University, Sacramento, was shadowed by his opponents and only got four points in just over 12 minutes of game time.
In the third game, Philippines-Mighty Sports showed their class as they finished the competition undefeated, trouncing Taiwan B 104-80.
Having already clinched the title the previous day, the Philippines did not go easy on Taiwan's junior national side, who are preparing for next year's Summer Universiade.
The visitors were too much for Taiwan B, crossing the century mark for the second time this tournament.
The starting five for the Philippines posted double digits, with the exception of Filipino-American point guard Jason Brickman, who netted eight.
Point guard Dewarick Spencer had a 27-point haul, while Michael Singletary got 21, Al Thornton 13 and Vernon Macklin 10.
Taiwan B trailed 33-54 at halftime and did not quit, chasing the Philippines all the way, but the experienced opposition kept their scoring pace for a 24-point triumph.
With a 2-6 record, Taiwan B finished eighth, just ahead of cellar-dwellers India in ninth.
Comments will be moderated. Keep comments relevant to the article. Remarks containing abusive and obscene language, personal attacks of any kind or promotion will be removed and the user banned. Final decision will be at the discretion of the Taipei Times.