Christie Kerr leads US to victory over South Korea
Cristie Kerr on Sunday birdied the par-five 16th hole to give the US the title-clinching victory at the LPGA's UL International Crown team event, edging South Korea by a point.
The US, who failed to even qualify for the decisive last-day singles matches in the 2014 inaugural edition of the event, captured the trophy with 13 points over the four-day event, compared with 12 for South Korea and 11 for Taiwan and England.
Lexi Thompson, Stacy Lewis, Gerina Piller and Kerr combined for a 6-3 with one halved record through three days of four-ball matches and the singles — taking the title after losing both matches to England on the opening day of the tournament.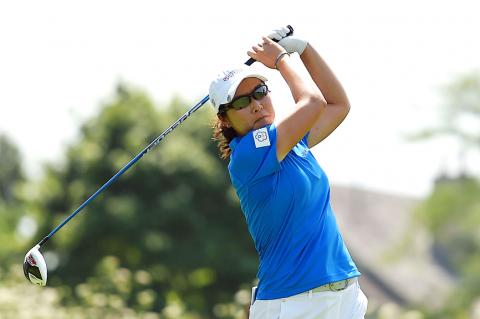 Candie Kung tees off on the fourth hole in a UL International Crown singles match at the Merit Club in Chicago on Sunday.
Photo: AFP
"It's huge," Lewis said. "This week has been unbelievable for us. To be called the best golfing nation I think is pretty satisfying."
"We never gave up. We had zero points the first day, and we still ended up with the most. It's just a testament to them and their will to want to win this thing," she added.
At the Merit Club in suburban Chicago, Kerr led from first hole to last in beating England's Mel Reid 3 and 2 to secure the triumph.
Kerr won four of the first five holes, saw her edge trimmed to one up after 14, but then won 15 with a par and birdied 16 for the clincher — not that she realized what she had done.
"I just tried to take care of my match. I didn't know that it had come down to me winning that match that we had won until Stacy told me," Kerr said. "I just kind of got oblivious to all of that, because it's just so hard to figure out who's making points, who's winning, who's losing."
"I knew some good things were happening, but it was getting really hot out there. I tried to play as well as I could coming in. Yeah, it's very satisfying," she added.
Lewis defeated Japan's Mika Miyazato 3 and 2, sweeping holes 13 to 15 to claim victory, and Piller never trailed in beating Taiwan's Yani Tseng 4 and 3 to set the stage for Kerr's dramatic triumph, while Thompson fell 2 and 1 to South Korea's Ryu So-yeon, keeping the trophy in doubt to the finish.
Taiwan's Candie Kung defeated Japan's Ai Suzuki 2 and 1, while Teresa Lu beat South Korea's Gee Chun 4 and 3.
Additional reporting by staff writer
Comments will be moderated. Keep comments relevant to the article. Remarks containing abusive and obscene language, personal attacks of any kind or promotion will be removed and the user banned. Final decision will be at the discretion of the Taipei Times.