Phelps sees Rio as opportunity to bow out on own terms
Michael Phelps is giving himself one last chance to get his Olympic farewell right.
It seems an odd aim for the owner of a record 22 Olympic medals, 18 of them gold.
Four gold medals and two silver in London in 2012 seemed a fitting enough finale to a career that peaked with Phelps's stunning eight-gold performance in Beijing.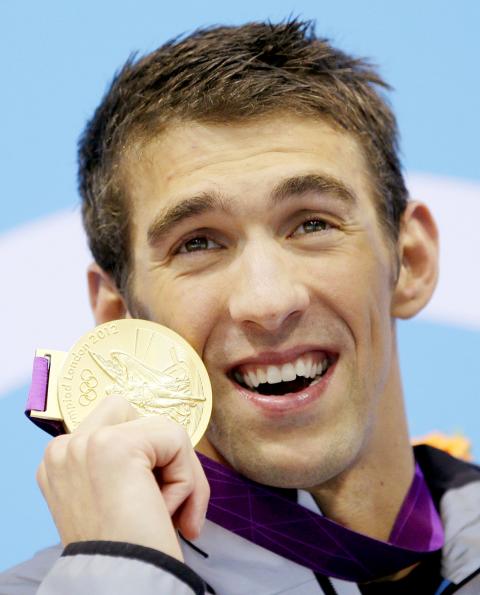 Swimmer Michael Phelps of the US celebrates after winning a gold medal in the men's 4x100m medley relay at the London Olympics on Aug. 4, 2012.
Photo: AP
However, Phelps knew deep down that he could have done more four years ago, and that "haunted" feeling made it impossible for his post-London retirement to stick.
"I never wanted to have that 'what if,'" Phelps said of his decision to mount a fifth Olympic campaign in Rio de Janeiro, at the age of 31. "This journey has been incredible. Being able to fall in love with the sport again is something that I have always wanted to do, and I did it on my terms."
However, his comeback has been far from smooth — disrupted by a drink-driving arrest that sparked a painful period of self-examination.
Phelps has emerged stronger, his renewed relationship with his estranged father resonating even more after the birth of his own son, Boomer, with fiancee Nicole Johnson in May.
"It is a cool thing for Nicole and I, for where we are in our lives," Phelps said.
His relationship with long-time coach Bob Bowman endures, with Phelps voicing absolute trust in Bowman's ability to prepare him for his last Olympic hurrah.
He has a chance to make more history as he seeks a fourth straight gold in the 100m butterfly and 200m individual medley.
The only Olympians to win four consecutive titles in the same individual event are athletes Al Oerter in the discus (1956-1968) and Carl Lewis in the long jump (1984-1996).
Phelps would love to avenge his 2012 loss to South African Chad le Clos in the 200m fly — the first event Phelps ever swam in the Olympics — in Sydney in 2000.
At the peak of his career, Phelps said he was out to change his sport.
He has done so, raising swimming's profile in the US with displays of individual excellence as well as thrilling duels with the likes of Ryan Lochte and Milorad Cavic.
The US Olympic trials are one testament to his success, drawing upward of 14,000 fans per session.
However, his more lasting legacy is found in the swimmers he inspired — some of whom, like Le Clos, he is to race in Rio and some of whom have yet to reach the international stage.
Once the most intimidating man in the ready-room, Phelps has said he wants to mentor younger swimmers. For the first time, he has been selected by his peers to serve as a captain of the US men's team.
"I just want to be able to help some of the younger guys," he said.
With swimming heading "in a direction I love," Phelps said there is "still more" for him to do.
"Do I know what that is right now? No, but I still feel that we can do more to promote this sport, even to another level than where we are right now," he said.
However, Phelps insists he knows what his future contribution will not include — another competitive campaign.
"This is it. This is it — no more," he said. "The body is done. This is my last one."
Comments will be moderated. Keep comments relevant to the article. Remarks containing abusive and obscene language, personal attacks of any kind or promotion will be removed and the user banned. Final decision will be at the discretion of the Taipei Times.