Astros sign Cuban free agent Gurriel to five-year deal
Houston general manager Jeff Luhnow first saw Yulieski Gourriel play a decade ago in a tournament in Amsterdam.
He imagined him playing in the major leagues and made that dream a reality on Saturday when he signed the Cuban free agent to a US$47.5 million, five-year deal with the Astros.
"To be able to get him now really in the prime of his career ... is a huge deal for us," Luhnow said. "It's probably the most exciting day since I've been here except for the wild-card win against the Yankees."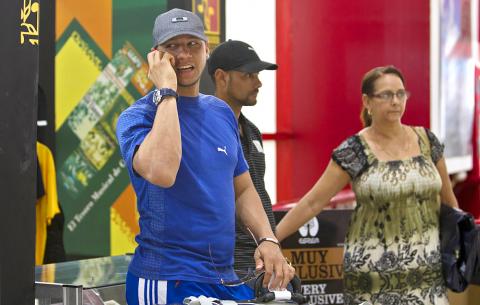 Cuban baseball player Yulieski Gourriel speaks on his cellphone at the Jose Marti International Airport in Havana, Cuba, on May. 29, 2014.
Photo: AP
A beaming Gourriel was introduced on Saturday in Houston, seated next to Luhnow behind a table draped with the US and Cuban flags. He was handed an Astros hat and jersey and proudly put both on, slowly fastening each button on the jersey, a huge smile never leaving his face.
"I have no words to describe this moment," he said in Spanish through an interpreter.
Gourriel was one of the most sought international free agents since leaving Cuba in February after competing in the Caribbean World Series in the Dominican Republic. The 32-year-old was declared a free agent last month.
There were times Gourriel wondered if he would ever get the chance to play in the majors.
"I always had the hope to play in the United States," he said. "But it always seemed like something very far away ... it has been my dream my whole life to be here and to play next to big league players."
The Astros are in the process of obtaining a work visa for Gourriel. Luhnow said that after that is done he will head to the minors to get some at-bats to prepare to face major league pitching for the first time.
Houston's Triple-A club is in Fresno, but the Astros want Gourriel to be closer to the team, so he will likely get those swings with Double-A Corpus Christi.
For now, he will head to Houston's spring training complex in Florida to prepare for his next move.
Though there is no official timetable for his major league debut, Luhnow is confident that it will happen this season.
"Absolutely," he said. "One of the reasons why [we] worked so hard to get this deal done as timely as we could was I want, and Yuli wants, to be part of a playoff run this year."
Gourriel gets a US$2 million reporting bonus if he obtains a US work visa before the end of the current season and salaries of US$1.5 million this year, US$14 million next year, US$12 million in 2018, US$10 million in 2019 and US$8 million in 2020.
He has a one-time right to opt into salary arbitration following his first eligibility and has the right to become a free agent when the contract expires. He does not have a no-trade provision.
He would earn US$100,000 if voted MVP, US$50,000 for finishing second and US$25,000 for third. He would get US$50,000 for World Series MVP, and US$25,000 each for League Championship Series MVP, Silver Slugger, Gold Glove and being selected an All-Star.
The Astros have shaken off a terrible start to the season and entered Saturday's games four games behind Texas for the lead in the AL West and one game back for the second wild-card playoff spot.
Gourriel is primarily a third baseman, but also has played second base and shortstop. He was an Olympian in 2004 and 2008.
Luis Valbuena is currently playing third base for Houston, but can also play first base. Luhnow said they will figure out where Gourriel will play later.
In 15 seasons in Cuba, he is a .335 hitter with 250 homers and 1,018 RBIs. Last season, he hit .500 with 15 homers and 51 RBIs in just 49 games for Industriales.
"To me, he was the Cuban star that everybody was hoping would become available to a major league team," Luhnow said. "It's a combination of pretty impressive offensive output, both power and speed and average and the ability to take walks and avoid strikeouts — all of the things we talk about being key elements of success in the major leagues."
"He's a five-tool player with 15 years of incredible success on the international stage ... pretty much the combination we'd design if we were going to design a ballplayer," he added.
Though Gourriel, who said he prefers to be called "El Yuli," will be a rookie in the majors at 32, he will be looked upon to be a leader for a team with several young Latin stars. When Luhnow went to Florida to watch him work out, it took only a short conversation with the player to see that he would be perfectly comfortable filling that role.
"The makeup here is exactly what you look for in a ball player in your clubhouse," Luhnow said.
Comments will be moderated. Keep comments relevant to the article. Remarks containing abusive and obscene language, personal attacks of any kind or promotion will be removed and the user banned. Final decision will be at the discretion of the Taipei Times.