OLYMPIC TRIALS: Merritt blazes into 200m final
FASTEST NOT ENOUGH: Brianna Rollins won the 100m hurdles, while Keni Harrison, who has the year's fastest time, was sixth, missing out on Rio
LaShawn Merritt clocked the fastest 200m time of the year, while Brianna Rollins scored a stunning victory in the 100m hurdles at the US Olympic track and field trials on Friday.
Merritt, the 2008 Olympics 400m champion, roared into the 200m final with a blistering time of 19.74 seconds, more than 0.2 seconds quicker than his nearest rival, Ameer Webb.
It was a devastating display of sprinting from Merritt, who insists that he remains undecided about whether to pursue a 400m-200m double at next month's Olympics in Rio de Janeiro.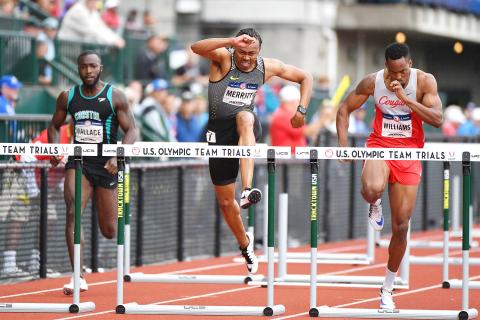 Desmond Wallace, Aries Merritt and Issac Williams run in their men's 100m hurdles heat at Hayward Field in Eugene, Oregon, on Friday.
Photo: James Lang-USA TODAY
"I'm not sure yet, I'm just trying to take it a race at time. I don't like to think too far ahead," Merritt said when asked about his Olympic plans.
Merritt was joined in the final by both Justin Gatlin and Tyson Gay.
Gatlin finished his semi-final in second place with a time of 20.23 seconds, trailing teenager Michael Norman in 20.21 seconds.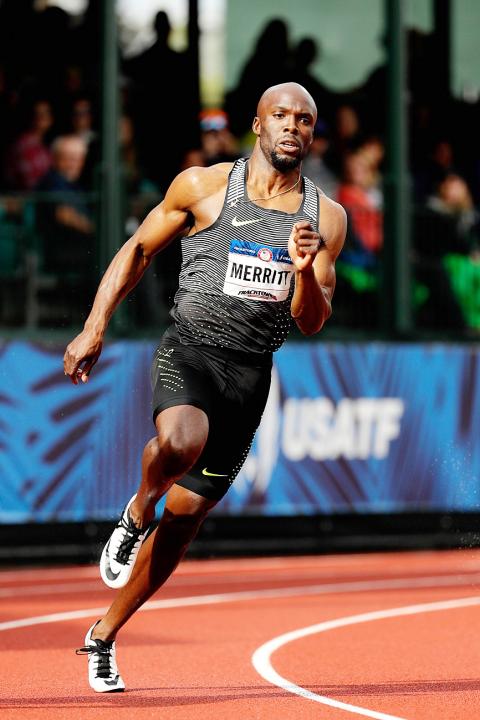 LaShawn Merritt rounds the bend in his 200m semi-final at the US Olympic track and field trials at Hayward Field in Eugene, Oregon, on Friday.
Photo: AFP
The drama on a rainswept day at Hayward Field came in the women's 100m hurdles, where 2013 world champion Rollins scored a superb victory in 12.34 seconds.
Kristi Castlin finished second, with Nia Ali third.
"I knew I was ready, I just wanted to come out here and do the best race I can, and I managed to execute that," Rollins said.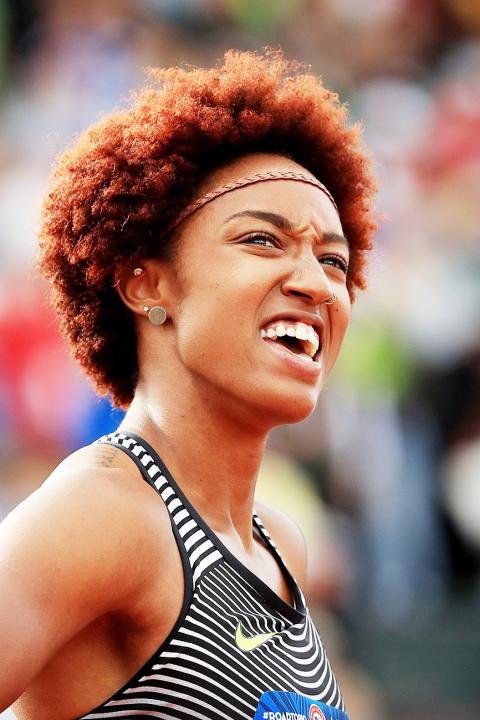 Brianna Rollins celebrates her win in the 100m hurdles final at the US Olympic track and field trials in Eugene, Oregon, on Friday.
Photo: AFP
Keni Harrison, the fastest woman in the world this year in the event, finished in sixth spot and missed out on a place in Rio.
Harrison's finish outside the qualifying spots reflects the ferocious depth of competition in the event among US hurdlers, who have monopolized this season's top-10 times.
Former Olympic champion Dawn Harper-Nelson joined Harrison among the casualties after failing to reach the final.
The 32-year-old 2008 Beijing Olympics gold medalist and London silver medalist was left in shock by her elimination.
"Honestly right now I'm in complete disbelief," she told reporters. "Tears are gonna come, but right now I'm in shock. I'm going to go through anger, more disbelief, frustration, confusion. I just don't believe it."
Elsewhere, Allyson Felix launched her bid for the 200m with a comfortable victory in her opening heat.
It was the first time the reigning Olympic 200m champion has run the distance this year and the 30-year-old was pleased to coast home in 22.93 seconds.
"It felt good, it felt comfortable," said Felix, who won the 400m on Sunday last week. "It's been a long time."
Felix, the reigning world 400m champion, is bidding to become only the third woman to win both the 400m and 200m at the same Olympics.
Felix was to race in the semi-finals of the 200m yesterday, with the final today.
Aries Merritt advanced in the 110m hurdles as he aims to qualify for Rio less than a year after undergoing a kidney transplant.
Aries Merritt, the reigning Olympic champion and world record holder, finished his heat in third place in 13.64 seconds, but is confident he can improve as the competition progresses.
"The jitters are out. I'm just looking forward to advancing round by round," he said. "There's always jitters. If you're not nervous there's something wrong."
Aries Merritt, 30, was watched by his sister Latoya, who supplied a kidney for last year's transplant.
"I'm lucky to be running, to be out here is a blessing. I'm hoping to do special things tomorrow [yesterday]," he said.
Comments will be moderated. Keep comments relevant to the article. Remarks containing abusive and obscene language, personal attacks of any kind or promotion will be removed and the user banned. Final decision will be at the discretion of the Taipei Times.