Phelps, Lochte set up Rio duel in medley
Michael Phelps and Ryan Lochte set the stage for a blockbuster show in Rio de Janeiro with a scintillating 200m medley duel at the US Olympic swimming trials on Friday.
It was 18-time Olympic gold medalist Phelps who emerged victorious, but he was pushed all the way by the man who has brought out his best for more than a decade.
"We race each other until the last stroke," Phelps said.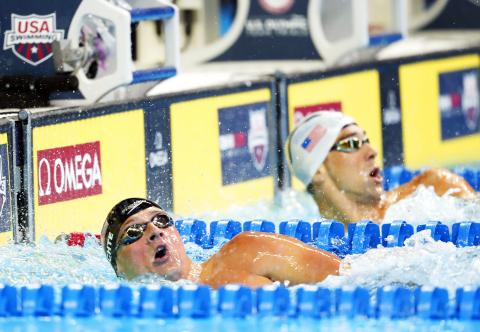 US swimmers Michael Phelps, right, and Ryan Lochte react after the 200m medley final at CenturyLink Center in Omaha, Nebraska, on Friday.
Photo: Rob Schumacher-USA TODAY
Phelps led at every turn on Friday, but Lochte was closing in coming off the final turn into the closing freestyle leg.
They battled stroke-for-stroke before Phelps lunged for the win in 1 minute, 55.91 seconds, with Lochte second in 1 minute, 56.22 seconds — putting them second and third-fastest in the world this year behind the 1 minute, 55.07 seconds of Japan's Kosuke Hagino.
"It's kind of crazy how our races usually work," Phelps said. "They usually do come down to the crunch."
The two locked arms across the lane rope, both acknowledging later that what they believe was their final race before a US crowd was a bittersweet moment.
"It was definitely really something that I'm going to take to heart," Lochte said.
Despite the valedictory feel, the race was more important to both swimmers as a springboard to a final showdown on an even bigger stage at the Olympics in Brazil next month.
Phelps has won the 200m medley in three straight Games, with Lochte taking two silvers and a bronze behind him.
"Thank you for sharing that," Lochte quipped when asked about the stat, but the 11-time Olympic medalist said he had no trouble staying motivated to challenge Phelps.
Between them they have won the past seven global golds dating to the 2003 world championships. Phelps won world gold in 2003, 2005 and 2007, while Lochte has won four world titles starting in 2009.
"That rivalry that we have created between me and Michael is amazing," said Lochte, who holds the current 200m medley world record of 1 minute, 54 seconds.
"We push each other and that challenge of getting on those blocks and racing against him is a thrill. So I'm definitely looking forward to that again," he said.
The 200m medley in Rio will not be a match race if Hagino has anything to do with it.
Phelps said he was "100 percent" certain he would have to go faster to get a medal in Rio.
"I think we're in a good place where we can improve," he said.
Comments will be moderated. Keep comments relevant to the article. Remarks containing abusive and obscene language, personal attacks of any kind or promotion will be removed and the user banned. Final decision will be at the discretion of the Taipei Times.